The Vampire Diaries Recap of "The End of The Affair"
The Vampire Diaries "The End of the Affair": The Good, the Bad, and the Bloody
There's not much that's better than a flashback episode of The Vampire Diaries, and this week takes us to the roaring '20s in Chicago. We meet the dapper, tuxedoed Stefan and Klaus in their friendlier but more violent days (for Stefan anyway), but the trip to Chicago isn't limited to just memories. Damon and Elena take off for the city too, but Elena's reunion with Stefan doesn't have the happy ending she hopes for.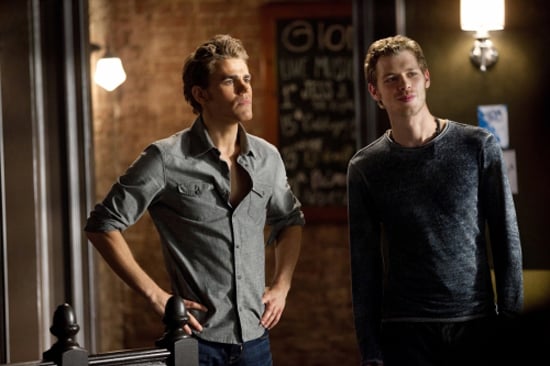 There's jazzy costumes and Prohibition-era fun all around this week, but we also learn a lot about Klaus and Stefan from their earlier days — and we meet another lady who once had Stefan's heart. Ready to break down the good, the bad, and the bloody? Just keep reading.
The Good
Klaus tells Stefan they're going to a witch to help with their "hybrid problem," and they visit their old haunt, Gloria's, to talk to the witch proprietor about finding the original witch who can assist them. We go back and forth in time to Chicago in the 1920s, and meet Stefan comfortably kicking it in his watering hole. He flirts with a hot blonde who doesn't give him the time of day, and though Stefan sure does look nice, he's certainly doesn't act nice, sinking his teeth into flapper victims galore.
Katherine finally shows up, calling Damon from a phone booth to tell him that Stefan and Klaus are in Chicago. Damon delivers the news to Elena in the best way possible, slinking in to her bed so he can wake her up and freak her out. They head to the Windy City, with Damon warning Elena that she can't handle how bad Stefan used to be. At their destination, Damon shows Elena where Stefan used to stay — and keep a list of his victims. Naughty boy.
Klaus blows Stefan's mind by showing him a picture of them together in the '20s, and it turns out that Stefan's old squeeze was Klaus's sister Rebecca, another original vampire. They find her corpse and pull out the dagger to wake her, and back in time, we see the three of them hanging out, with Klaus (then going by "Nik") giving Stefan the third degree about dating his sister, then torturing the club's partygoers. Stefan finally figures it out that Klaus wanted him to come with him so badly because he was such a great wing man, but he still can't remember why he has no memory of their time. Until, that is, we flash back and see that Klaus had compelled him into forgetting everything. Stefan questions why he took off — and who it was that made Klaus go on the run in the first place.
Elena decides to read Stefan's journal, detailing his journey from ripper to reformed, with the help of his friend Lexi. She's nearly caught when Stefan and Klaus come in, and Elena freezes as Stefan stares at her, hiding in the closet. Stefan distracts Klaus, and later at Gloria's, it's Damon who distracts Klaus while Elena and Stefan talk. She almost stabs him, but he senses what's about to happen and finally says the words that get Elena to let him go: "I don't want to see you, I don't want to be with you. I just want you to go." Even though I'm pulling for Damon and Elena, my heart still breaks for her a little.
You may have thought Caroline's mother was hard on her about being a vampire, but she's got nothing on Caroline's father. He's determined to "fix" his little girl, and he does so by exposing her to brief, painful bursts of sunlight and conditioning her to make her fight her urges for blood. He tells her he's trying to fix her so that he won't have to kill her, and as Caroline whimpers in pain, Liz shows up with a gun and Tyler. They release her from her prison, and Tyler cuddles her while she recovers in her bed, and it's my second favorite scene we've gotten of the two of them in bed together.
Katherine is so old news as Elena's competition for Stefan's love. Rebecca is out of her decades-long nap, and still in love with Stefan, and when Klaus restores Stefan's memory, he remembers his feelings for her too, and how close he and Klaus were back then. But their reunion is kind of cut short, because Klaus cuts to the chase of why he brought Rebecca back. She can contact the original witch to help with Klaus's hybrid creation issue, but she needs her special necklace to do it. She doesn't have it . . . because I'm pretty sure Stefan gave it to Elena, and Katherine knows it.
The Bad
It's one of those rare weeks that there's not too much bad to report, but I will admit that I giggled a little bit at Katherine's costume-y bob wig when she pops up near the end of the flashback.
The Bloody
Stefan is pretty nasty in the '20s, but the yuckiest thing he does is slit a victim's wrist, and then force her human husband to sip it like its champagne.
What did you think of the 1920s excursion? Do you think Elena will call off her hunt for Stefan for now and let Damon in? And are you as excited about new character Rebecca as I am? I can't wait to experience this temper Klaus speaks of. Weigh in below!
Photo courtesy of The CW