The Vampire Diaries Recap "As I Lay Dying"
The Vampire Diaries "As I Lay Dying": The Good, the Bad, and the Bloody
This week is The Vampire Diaries season finale, and like the movie the town is showing in the episode, some characters are Gone With the Wind by the end. Damon staggers through the episode with his fatal werewolf bite threatening to take his life, while Stefan finds a cure for him — but it has huge consequences. We also narrowly miss losing one character, but his survival might, ironically, raise two old characters from the dead.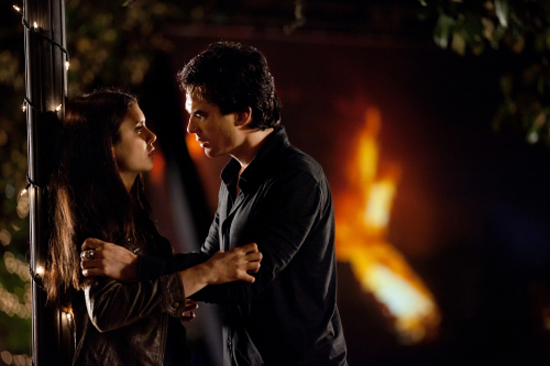 And besides Klaus, death, and all that blood, you know you want to talk about the one, tiny moment of sweetness. So to get down to the last good, bad, and bloody of the season, just
.
The Good
Damon is despondent about his werewolf bite/death sentence, and he apologizes to Elena in an attempt to get her forgiveness. He removes his ring and steps into the sun in a half-hearted suicide attempt. Stefan catches him, and tosses him into the cell in the house to keep him from harming himself further. In search of a cure, Stefan has Bonnie channel Emily, and she sees one thing: Klaus.
When Stefan stops by to ask Katherine how to find Klaus, he makes it in time to witness Klaus stabbing Elijah with the dagger. Guess he's not a man of his word after all. Klaus bites Katherine, possibly turning her into a werewolf/vampire hybrid (let's call them werepires for now), and Stefan realizes that Klaus's blood is the cure. Klaus offers Stefan a deal for some of his blood; he has to do everything Klaus says. It starts with drinking bag after bag of blood, which turns Stefan into Crazy Stefan, of course.
Sheriff Forbes stages a raid on the Salvatore house, and Damon gets unleashed on the town in his crazed mental state. He stumbles to the town square's screening of Gone With the Wind, where Jeremy sees him and gets him into the Grill. But Sheriff Forbes is on their tail, and when she shoots at Damon, she hits Jeremy instead. Caroline and Bonnie rush in to find Jeremy mortally wounded, so Caroline has Jeremy drink some of her blood, but it's not enough to save him.
Bonnie starts a spell at the old witch house in order to save Jeremy, but the spirits of the witches don't want to help her, warning Bonnie of consequences, but she pushes on, as her nose gushes with blood and she sobs about her love for Jeremy. How creepy is that scene, with the eerie dead witch voices? Those will be starring in my nightmares tonight. Finally, Jeremy wakes. But when he's supposedly safe and sound at home, he gets up to investigate a suspicious noise, and he runs into two ladies from his past he wasn't exactly expecting: Vicki and Anna! I guess these are the consequences the old witches were referring to earlier. So is bringing back the two girls Jeremy loved before her just a tool to torture Bonnie, or is something more insidious going on?
After putting Elijah's body in a coffin, Klaus tells Stefan that he's leaving town with him. He gives Stefan one last challenge before he leaves — he wants to see Stefan hunt a human. Stefan takes the bait, killing an innocent girl. That's what we've got to look forward to in season three. Crazy Stefan is back, y'all!
In his mental degeneration from the bite, Damon keeps hallucinating flashbacks of himself with Katherine, while Elena appears intermittently. When Elena finds Damon wandering at the screening, he nibbles on her neck a little before realizing what he's doing. Back at the house, Elena cares for sweaty, dying Damon, as he realizes that he chose to love Katherine, along with all the other bad decisions he made. Damon remarks that Elena would have like him in the 1800s, and she sweetly tells him "I like you now, just the way you are," (Bridget Jones alert!) then kisses him. Katherine arrives, Klaus's blood in hand, and feeds Damon the cure. She lays the news on Elena that Stefan has left town with Klaus, giving her up to save Damon. Dear Elena: I know you're heartbroken now, but there's a bright side. And his name is Damon.
The Bad
The only bad things are that I'm confused — are Anna and Vicki alive? Or as alive as vampires can be? And are Damon and Katherine now werepires? I can't last a whole Summer not knowing!
The Bloody
Klaus is a nasty mother. He doesn't just stab Stefan, he has to vocalize that it's "scraping against your heart." Some things are better left unsaid, Klausy.
It's been a while since we've seen Stefan with the blood-stained mouth, and it's pretty terrifying. And gross. And even though there are no flashbacks showing Stefan as "a ripper," that word is enough to give me visuals.
So, we end the season with Stefan taking off with Klaus, Damon and Elena left alone (ooh la la), and Jeremy with a couple of supernatural exes to contend with. I guess next season will start with Klaus and Stefan having bloody buddy time, and hopefully, there will be some more kisses between Damon and Elena. What did you think? Chat with me in the comments below!