The Vampire Diaries Recap "The Last Dance"
The Vampire Diaries "The Last Dance": The Good, the Bad, and the Bloody
We go vintage on The Vampire Diaries this week with a decades dance and a villain so old that calling him vintage is a compliment. It's Klaus, sort of showing his face, and striking fear into the hearts of all the characters, even the season's main baddie thus far (Katherine). Matt continues his subterfuge against his girlfriend for the benefit of the sheriff, and Damon — well, all you need to know is that Damon is a dancing machine.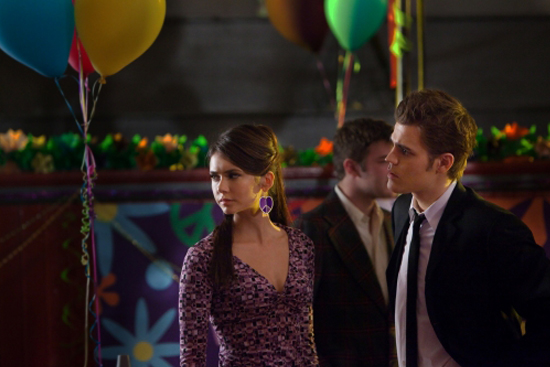 But the episode culminates with a violent showdown that left me utterly shocked. I don't want to spoil that, or anything else, though, until after the jump! To read the good, the bad, and the bloody, just
.
The Good
Matt Davis is the latest cast member to get to play a second character when he's fully possessed by Klaus this week. With Katherine imprisoned, he assumes Alaric's identity, even attempting to teach a class with the least informative lesson plan ever. Though Stefan and Damon have signed their house over to Elena to make it a safe house and keep out the likes of Klaus, he's able to walk right in, thanks to his human disguise. He doesn't plan on staying concealed for long, though; while the students prep for a 1960s-themed dance at school, Klaus sends Elena a message through a compelled classmate to let her know that he's coming to the dance.
Best dancer award goes to Damon! Though he's dressed for a leather pants dance while everyone else is in '60s getup, he's having the most fun, while everyone else is tense and on the lookout for Klaus. He spins Elena around on the dance floor, and she even notes his prowess (a man after my own heart, he quotes My Best Friend's

Wedding

: "I've got moves you've never seen"), while he also calms her down when he reminds her of how they beat the vampires at the last decades dance. Then, he partners with Bonnie to talk strategy, and even though Bonnie is happy with Jeremy, I swear I sensed a little more chemistry between them.
Excellent Bonnie twist, Vampire Diaries. Bonnie knows that she needs to use her full power to kill Klaus, but in doing so, she may also die. She keeps that info from Elena, knowing she'd just talk her out of it — which Elena tries when she finds out. But when it comes time, Bonnie and Damon secretly plot to take Klaus on. Locked in the cafeteria, Bonnie summons all her power to defeat Klaus, willing to sacrifice herself — and she does. Damon collects her lifeless body as Elena looks on in horror, shocked that her best friend is dead. The grief turns to anger, and at the house later, she strikes Damon for his part in Bonnie's death. But surprise! Bonnie's not dead, Klaus just had to believe she was — he did, and I did too. I was so fooled by Damon and Bonnie's ruse that I had completely accepted that Bonnie may have just been killed off. She survives, though, hidden away to keep up the facade of her death. At least she has Jeremy and the Internet to keep her company.
Five words that melted my heart this week: "I will always choose you." Damon is positively smoldering when he explains to Elena that he was willing to sacrifice Bonnie's life over hers. He says as much to Stefan moments earlier too, and while he sounds merely protective then, when he says it to Elena, it has a tragically romantic edge.
What's this new plot? In the final moments of the episode, Elena (or could that have been Katherine? Sigh) sneaks off to remove the dagger out of Elijah's back, which we know will resuscitate him. Does she think that Elijah will be able to defeat Klaus, or does she have something else up her sleeve?
The Bad
The Matt/Sheriff Forbes storyline is boring and mostly unnecessary. It's nice that the writers are giving Caroline something to do while she doesn't have a distinct arc right now, but having Matt as a spy for her mother isn't as compelling as the other subplots on the show. I hope it's resolved fast.
The Bloody
Even though I doubt how much pain a vampire can feel from stabbing themselves, Katherine's repeated leg-jabbing at the behest of Klaus freaks me out. Her tender thigh, covered in blood? Argh.
Were you as fooled as I was about Bonnie's death? And what do you think Elena's plan with Elijah is? Weigh in with your theories below and join the Hooked on The Vampire Diaries group in the Buzz Community for even more.
Photo courtesy of The CW