The Vampire Diaries Recap "Miss Mystic Falls"
The Vampire Diaries "Miss Mystic Falls": The Good, the Bad, and the Bloody
This week's episode of The Vampire Diaries is all about pageantry and addiction — and it's juicy in more ways than one. We already had a sneak peek at the Miss Mystic Falls event, but seeing Damon and Elena actively dancing together with my own eyes was so much better!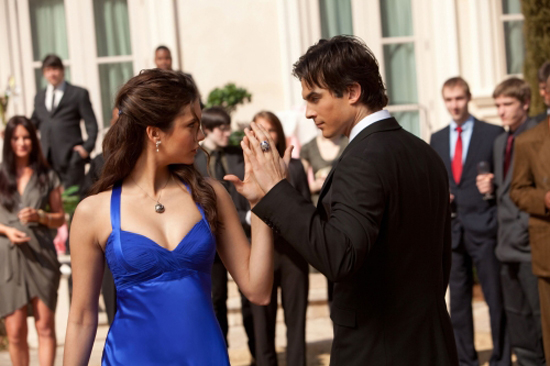 I can't wait to digest it all and discuss, so let's do it! To see this week's good, bad, and bloody, just read more.
The Good
Even though Stefan is kind of hot at first, riding up in his little red roadster (channeling both Edward

Cullen

and Dylan McKay), it becomes clear that he's still on the red sauce, going so far as to steal blood from the hospital. It doesn't go unnoticed, and Sheriff Forbes and John Gilbert come knocking at the Salvatores' door. Damon confronts Stefan about it, but Stefan lies his little tail off — til we see the fridge stash of blood bags.
The episode revolves around the Founders' Court and awarding the title of Miss Mystic Falls. Not super scintillating — until the addict in Stefan forces him to abandon Elena (more on that later) and put her in the arms of a new escort: Damon. He becomes an unlikely white knight at the bottom of the stairs, and Elena's obviously grateful. But the extreme sexy eyes they give each other as they share a dance hint at something more, especially from Elena. Let's face it, they are hot together — some people may want to be switching sides on a certain issue, perhaps.
Bonnie's back! After being gone for ages, she explains that she just couldn't deal since Grams's death and has been avoiding school. That's not all she's avoiding — she visibly bristles in Stefan's presence. Turns out Bonnie is holding a grudge against Stefan and Damon, blaming them for compromising Grams. In my absolute favorite moment, she saves the day as the only one who can stop a murderous Stefan (she deafens Stefan! Get it?).
I love how this show keeps introducing a new mystery when you think there can be no more. This week, we learn a little bit more about why John is in town: he knows of an invention that the original John Gilbert had, and that it was stolen by someone named Pearl. When he noses around Jeremy and Anna, Jenna slips that Anna's mom is named Pearl, and John has a direction. Pearl meets up with Damon later, and he tells her about the invention, which we find is not just the vampire-indicating pocket watch. What could it be?!
Detox time! Once Elena knows Stefan is sipping from the forbidden fountain, she wants it to end. Whether it was her or Damon's idea to stick Stefan with a vervain syringe, I don't care — I'm just glad she's being proactive.
The Bad
I've had enough of bad boy Stefan. It was cute at first, but he's so aggro that there's nothing likable left in him. And I dare say that this 'roid-ragey Stefan is just a bit less dreamy. The upside: it actually makes me appreciate that Damon can, uh, control himself so well when he's drinking blood. Who knew?
The Bloody
While I was psyched to see Spencer Locke from Cougar Town as Amber, Stefan's unwitting victim, I was so grossed out by their whole fluid exchange. Did Stefan really have to have so much blood drool?
Once again, it was another solid episode, and it totally makes me want to see more Damon and Elena. I'm left wondering about where Bonnie will go from here, what this invention is that Pearl has, and why on earth anyone wants to call Alaric "Ric." Give me your thoughts below, and to geek out on the show any ol' time, just join the Hooked on Vampire Diaries group in the Buzz Community.