The Vampire Diaries Recap "Original Sin"
The Vampire Diaries "Original Sin": The Good, the Bad, and the Bloody
It's week three of The Vampire Diaries season five, and things are finally starting to get good. We come face to face with a character whose name we've only heard uttered a million times (and played by a former regular from another vampire show), while we also get some insight into the whole doppelganger situation — and what it might mean for Stefan and Elena's fate. Speaking of Stefan, he's finally out of the box and living life again — which means that he immediately gets right back into trouble and drama. I love it!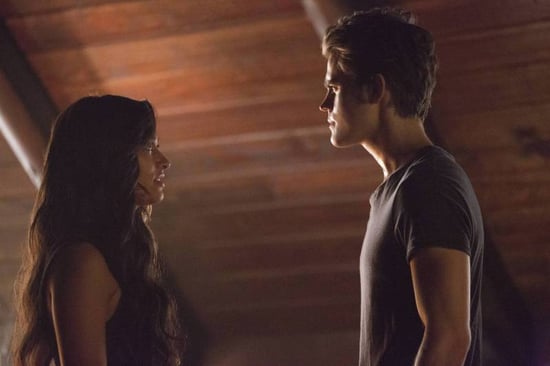 Getting answers feels pretty satisfying, even though there are still plenty of questions. One thing is for sure: Matt's best at just being Matt. There is so much to talk about, so let's just get to it after the jump.
The Good
We pick up back with Stefan out of the box and zombie-like, draining the locals off some interstate and stumbling into the light only to fry without his daylight ring. A kind person rescues him, only to reveal that she's not just some good Samaritan — she's Qetsiyah! The witch who cursed

Silas

who we've heard about for so long! And she's played by True Blood's Janina Gavankar! Was your mind blown?! Because mine was!
Anyway, in revealing her true identity, we learn more about Qetsiyah (who'd like to be known as 'Tessa' now, thanks) and her history with Silas. We basically get a flashback illustration of what we heard before — Qetsiyah cursed Silas to immortality and buried him with the cure, but now we know more details. She was in love with him, but he wasn't in love with her, so he had tricked her into making him immortal so he could be with his one true love, Amara — Qetsiyah's handmaiden. Qetsiyah didn't just curse Silas, though; she murdered Amara, but that's not even the crazy part. The crazy part is that Amara looks exactly like Elena and Katherine! We'll come back to this.
Meanwhile, Damon, Elena, and Katherine are on their way to come find Stefan, which they deduce from psychic dreams both girls are having about him (but revealed to just be planted by Qetsiyah). Nadia, the sexy traveler working for Silas, shows up and intercepts Katherine on the road trip. Here's the interesting wrinkle with her: when she killed her boyfriend "Gregor" for Silas last week, it was just to convince Silas she was on his side, but she is indeed playing him — and summoning dead Gregor from inside Matt.
When Damon finds Stefan, We hear Qetsiyah's plan for now: she wants to kill Silas "once and for all" (heard that before) and she's going to link Silas and Stefan to do it. She makes the link and we watch as Silas's brain is "fried" — which does not look good for Stefan, who bleeds out of his eyes (yet another True Blood similarity this week!). So now that Silas has lost his mental abilities, he's still alive and out to get Katherine.
And now we know he wants Katherine so bad: she's the cure. Her blood, that is — and all Silas has to do is drink it. Does this mean any vampire who drinks from Katherine could be cured of their immortality? Um, hello.
Let's talk about what we learned about doppelgangers. Qetsiyah educates us that there have been multiple versions of Stefan and Elena through the years — their "shadow selves" — and they keep falling in love with each other. Over and over again. They seem to be each other's "one true loves" which is truly devastating to hear for Damon, and fans of Elena and Damon. It also seemed devastating for Damon when Elena rushes in to the cabin to attend to Stefan and barely even notices that Damon is lying there like "what about me?"
The Bad
What's worse: Paul Wesley as ancient Greek-times Silas or Matt's Eastern European accent? I know, Matt's Eastern Euro accent wins by a mile, but let's just giggle together about Silas's curly bangs.
Stefan lost his memory?! Qetsiyah is right; this is a soap opera.
The Bloody
Qetsiyah's murder of Amara is more ghastly than most kills we see on this show — and we don't even really see anything. We just see blood (so much blood), and then the pièce de résistance: she hauls out Amara's heart and all but rubs Silas's nose in it. Craziest ex-girlfriend ever?