The Vampire Diaries Recap "The Originals"
The Vampire Diaries "The Originals": The Good, the Bad, and the Bloody
We get a little time-out from the cure drama in Mystic Falls on this week's episode of The Vampire Diaries, and we head to New Orleans with Klaus. There's a reason there's a focus on the original vampires — this episode also serves as the pilot for spin-off The Originals. He road-trips to Louisiana for a little witch investigation but ends up running into an old friend.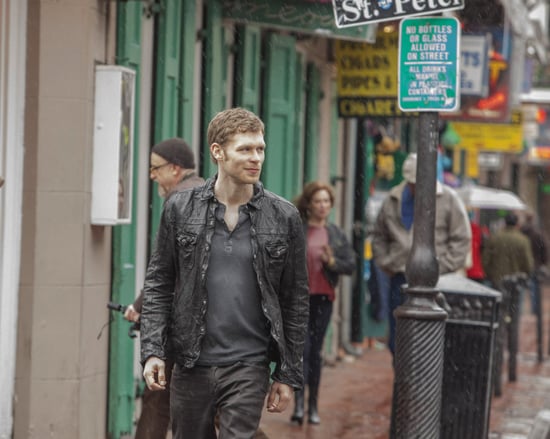 Though we do get a glimpse at the Salvatore brothers and a few people back in Mystic Falls, this week is all about Klaus. There is a lot going on in the streets of New Orleans, and it ain't Mardi Gras. Ready to get to the good, the bad, and the bloody? Just keep reading.
The Good
Acting on a tip from Katherine (that doesn't sound juicy at all, but let's go with it), Klaus heads to New Orleans to find out why a witch named Jane Anne is trying to take him down. He's led right to Marcel, his former protégé who has maybe been taught too well by Klaus. Marcel rules the French Quarter with an

iron fist

(but still has time for karaoke). Marcel's most fervent against witches using magic, and Elijah (who's conveniently decided to tag along) and Sophie (a new witch character) tell Klaus that Marcel is out of control and needs to be stopped.
Hayley is pregnant! Congratulations? The preposterousness of Klaus, a vampire/werewolf hybrid, impregnating Hayley is explained away by saying she's a werewolf (and apparently superfertile). It still doesn't make sense to me that a vampire who is as old as time would still have sperm that's good to go, hybrid or no hybrid. But what do I know? I'm not a werewolf doctor.
Because Klaus can't stand to be No. 2, he bites a friend of Marcel's when Marcel declares himself the king of New Orleans and demands Klaus's respect. Not very respectful, but very Klaus. He just wants to break a rule and prove he can get away with it, but after a pep talk with Elijah, Klaus decides he wants to stay and be king of New Orleans, so he makes nice with Marcel (for now). Oh, and that baby? Klaus decides he needs an heir anyway. I'm sure Hayley will appreciate her womb being treated as a commodity.
As much as I love Klaus, this episode is a lot of Klaus. He broods, he reflects on himself, he thinks about his future . . . and it's not that entertaining. However! My favorite part is the Klaus/Caroline scene that doesn't even feature Caroline; he just calls her to say that New Orleans is great, but all he can think about is her and how he wants to show it to her. That is so the kind of voicemail you save and relisten to a million times.
The Bad
Marcel is so cute — but he is too cute to be scary, let alone go up against Klaus. The one show of fierceness he has is when he whips a witch's throat with a plant. A plant. Meanwhile, Klaus and Elijah are pulling out hearts and threatening to remove spines. Practice that kind of stuff if you want to be taken seriously, Marcel.
Why we need to see any of Katherine this week is beyond me, but I'm glad Elijah tells her goodbye. Dear Katherine: that is Elijah's polite way of saying he's just not that into you. You have been dumped. Bye now.
The Bloody
Elijah announces his entry into New Orleans by ripping out someone's heart and stabbing someone else. Elijah: still got it!
What did you think of this week's episode? Would you watch a whole series dedicated to Klaus and the Originals?