The Vampire Diaries Recap "The Rager"
The Vampire Diaries "The Rager": The Good, the Bad, and the Bloody
This week's episode of The Vampire Diaries takes us to a place we haven't been in a long time — the high school! Elena has her first day of school as a vampire, but both the new vampire slayer and Rebekah make it almost impossible for her to enjoy it. With class back in session, there are parties, burgeoning romances, and a new teacher . . . who wants the students dead.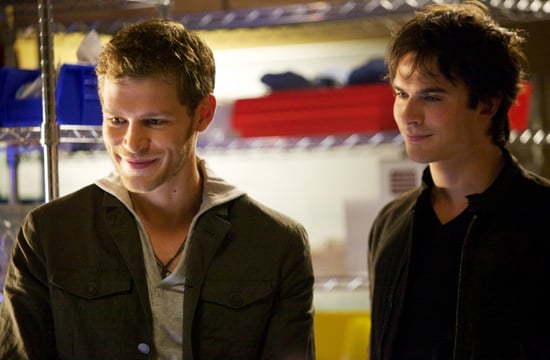 We learn something important (well, mysteriously important) about Connor, and it feels as if we're gearing up for something big, but this week is more about going back to school and Elena trying to adjust to vampire life yet again. But there is plenty of stuff to talk about in the good, the bad, and the bloody, so let's get to it.
The Good
My suspicion about Jeremy being able to see Connor's tattoo was correct: it does mean he's a hunter, or a potential hunter, at least. Anyway, Connor the Vampire Hunter extracts some werewolf venom from Tyler, which he tortures both Rebekah and Elena with, and he gets a little bit closer to nailing those vampires down with the help of Jeremy. Even though Jeremy cooperates with him to help Damon (which yields the amazing line "Badasses don't say that"), I don't think Jer is done exploring his options as a slayer.
I like that even though Rebekah is a centuries-old vampire, she's a totally typical high school girl. She's crushing on a boy (but he's mad that she tried to kill him), and she just wants to be popular. I like Elena and Rebekah's mean-girl routine, especially since it goes beyond the "I slept with your boyfriend" barbs: these girls stab each other with pencils! Then, Rebekah steals Elena's ring and makes her fry in the sun, while Elena nearly does Rebekah in for good with a white oak stake. Girls can be so catty.
Matt and Elena have made regular dates for her to drink from him, and she's just about the sweetest lil vampire that can be, what with her polite little bites and Band-Aid toting. However, she's got some rage/hunger issues, and when she almost kills Matt later, Damon declares that he's going to help her adjust.
Yay! A new character I can get behind. Hayley, a werewolf, seems like quite the spitfire, but I'm most excited about her because she's played by Phoebe Tonkin, of the one-season wonder The Secret Circle. However, her involvement spells bad things for Caroline and Tyler, because Klaus immediately sniffs out that Tyler cheated on Caroline with her, which Tyler doesn't deny. This could be what Klaus needs to break these two up and drive his blond crush straight into his arms.
Speaking of Klaus, he's back, and he's really back as the old Klaus we know and love — you know, hilarious, clever, and devious. First he stirs up trouble when he meets Hayley, and with his trouble-making smirk still on, he volunteers to help Damon hunt down Connor. Maybe it's too soon to call them friends, but the guys seem to have a great time teaming up, bouncing their jokes off each other and whatnot. This is definitely my favorite new dynamic duo.
Elena's keg stand at Rebekah's party is both hilarious and bizarre. I mean, if you've got super strength and you're pretty young, I guess it makes sense to see how great you are at keg stands so you can impress everyone. We really are in high school this week!
Obligatory Damon and Elena report: She sees him with his shirt off but flees when he promises more of "a show." (What is she thinking?) Then, she sees his face when she's making out with Stefan, which could be a result of the blood-sharing or the werewolf venom, or maybe it's just good old-fashioned crushin'.
So who are these mysterious five? Klaus utters that Connor is one of them and determines that he's worth keeping alive because of it. Can't wait to get this history lesson from Professor Klaus next week.
The Bad
Stefan is worried about having too much fun with Elena because he might become The Ripper again. No! Not too much fun! Oh, Stefan, chill out.
The Bloody
Rebekah is such a jerk, you guys. Not only does her little bloody handprint face trick upset Elena and make her hungry, but also, it totally ruins her makeup. But for real, that bloody handprint on Elena's face is nasty.
Thank god that Rebekah/Matt conversation isn't real. I didn't want Matt to die, but I also didn't want to see his heart on screen for that long.
What did you think of this week's episode?