The Vampire Diaries Recap "The Reckoning"
The Vampire Diaries "The Reckoning": The Good, the Bad, and the Bloody
If last week's episode of The Vampire Diaries wasn't as exciting because it was largely setup, it was worth it for this week's super-exciting and satisfying episode. Klaus, Stefan, and Rebecca terrorize the halls of Mystic Falls High, and the doppelganger/hybrid problem is pretty much resolved.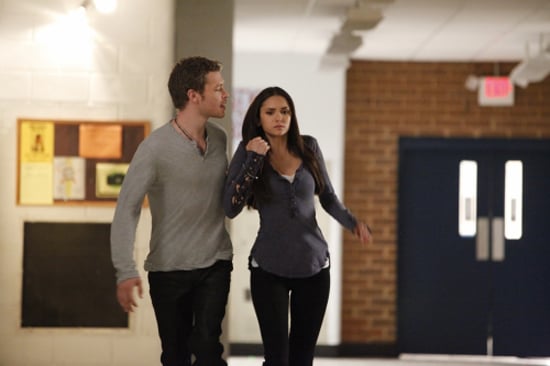 The ghost ex-girlfriends Vicki and Anna both play a big part this week, too, and one of them introduces us to the show's next big supernatural character. Stefan is still adrift in a sea of evilness, but all it does is make this episode even more interesting — especially where Damon and Elena are concerned. Ready to break down the good, the bad, and the bloody? Just
.
The Good
The kids are back in school (remember when they used to go to school?) celebrating senior prank night. It's where Klaus finds Elena, and Stefan finally stops playing it cool about Elena when Rebecca reveals that Klaus has gone after her. Rebecca stakes him, and he's not the only one who gets badly injured in the crossfire. Klaus gets Elena, Bonnie, Matt, and Tyler, and explains his hybrid problem. To illustrate it, Klaus grabs the werewolf in the room, Tyler, and feeds him his blood — then ruthlessly breaks his neck.
Best line of the episode goes to Rebecca: "Why is that doppelganger b*tch wearing my necklace?!"
Damon and Katherine are on their road trip, and Damon gets it out of her that she has the necklace. She also has something else: Jeremy in the trunk (and I snorted when Damon sees the unconscious body and says, "Jeremy? Really?") The unexpected cargo makes sense when Katherine talks about the person who was hunting Klaus all those years ago, someone that Pearl and Anna knew — and of course, Jeremy is the only one who can see Anna.
The other ghost girl shows up this week too, when Matt finally gets a visit from Vicki. Vicki and Matt try hard to contact each other, and she says she can help, but they're just not getting there. To move the situation along, he sinks himself to the bottom of the school pool. Bonnie pulls him out and frantically tries to revive him, but Matt's plan — to see Vicki in an unconscious state — works. Vicki has a message for Bonnie: Elena being alive is what's preventing the hybrids from surviving. Then, Matt gets his wish to see Vicki again, at the end of the episode, but this time without attempting suicide.
Tyler is, as Rebecca says, "dead . . ish." Caroline breaks the news that he's in hybrid transition, and it may come down to his death or Elena's. But surprise, surprise: Klaus finds out that the doppelganger doesn't actually need to be dead — the hybrids just need her blood. On the one hand, it feels like a cop out, because Elena having to die was emphasized so much before, but hey, at least it works out for Elena's mortality. Anyway, Klaus feeds Tyler Elena's blood, and the trial run pays off: Tyler turns into a vampire/werewolf hybrid, the first successful offspring of Klaus. Being a hybrid kind of seems like Red Bull, because Tyler's all energetic and happy. "This is going to be an amazing year," he tells Caroline. It's nice that he's so confident, but come on dude, you just jinxed yourself. Saying that in Mystic Falls basically means there's nothing but trouble heading your way.
Klaus's cruelest act is commanding Stefan to drink from Elena, and he puts a countdown on the clock. Elena tries to tell Stefan that he will be able to stop, but Stefan disagrees. He urges Elena to run, which she does, and Stefan can't help but run after her. He goes so far as to stake himself, and Klaus finally gets Stefan to "turn off" all his humanity. To test his work, Klaus tells Stefan to drink from Elena again, which he finally does.
Elena wakes up in the hospital to find that Klaus is extracting her blood for future hybrids. With Stefan out of the running to protect her, Damon returns. He confronts Klaus in the hospital parking lot, and an angry Klaus attacks him, but Damon says the one thing that gives Klaus the willies: Michael. He warns Klaus that he and Katherine have found him, so Klaus skidaddles, leaving Damon to rescue Elena from her hospital bed. He nurses her back to health with a combo of bourbon and sexy looks, and even offers to erase any memories she doesn't want to remember. Elena refuses, and faces the fact that Stefan is lost to her.
Damon tells Elena that he stole back the necklace for her, and that he will never leave her again (this has been your Damon and Elena Moment of Sweetness). But I guess there wasn't room in Klaus and Rebecca's car, because Stefan interrupts them, telling them that he's now assigned to watch over them while Klaus is gone.
Anna reveals what she knows about Michael, the vampire hunter Rebecca mentioned in last week's episode. Michael apparently has to be woken — because he's entombed. Katherine and Jeremy, one of this show's oddest combos, go to the crypt to find Michael, and yep, he looks just like what you imagine an entombed guy to look like: gross.
The Bad
Is Stefan the most cheeseball villain ever? He gets no scary points for screaming "I'm a ripper! A ripper doesn't stop!" at Elena.
Come back Klaus! You were upping the hotness of this show to unforeseen levels!
The Bloody
Stefan is quite the ripper this week, and it is a little bit shocking to see him sink his teeth into Elena so forcefully.
The most shocking violent moment is actually bloodless: when Klaus breaks Tyler's neck. I gasped, and though I was pretty sure they were going to find a way to make him survive, I wasn't 100 percent.
I think this is my favorite episode of the season so far, and now I'm finally really believing Stefan as a villain. I'm glad too, because it seems like Elena may be able to take that leap with Damon since she accepts that Stefan is no longer boyfriend material. What did you think of the episode, and what do you make of the Tyler/hybrid and Michael/vampire hunter situations?
Photo courtesy of The CW