The Vampire Diaries Recap of "Smells Like Teen Spirit"
The Vampire Diaries "Smells Like Teen Spirit": The Good, the Bad, and the Bloody
The gang is officially back in school for their senior year at Mystic Falls High on this week's episode of The Vampire Diaries, but they've got way more to worry about than what they're going to wear on the first day. Stefan is a bully in the halls, Matt and Jeremy are haunted, and Rebekah is the new, annoyingly popular girl (and killer vampire).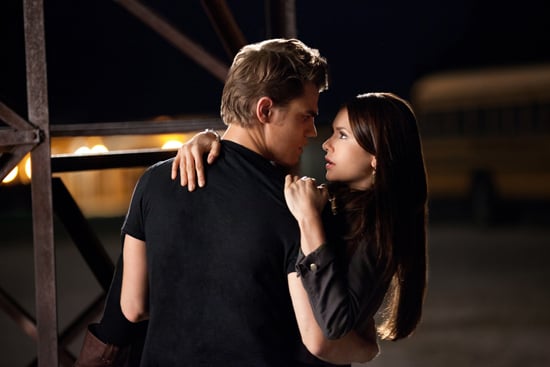 There are a few shocks near the end of the episode, but I was really into the return of the students at school (especially the vision of something we rarely see: drunk Elena). I'm ready to break down all the good, the bad, and the bloody of the episode, though, so get there when you keep reading.
The Good
Stefan has switched places with season one Damon, with a harem of blood-giving girls at his disposal. But he's not on house arrest; he decides he's going back to school so he can keep a close eye on Elena. He's basically Elena's high school bully, pestering her in the halls and on the track. There's another thorn in Elena's side at school: Klaus has left Rebekah (aka "Barbie Klaus") behind, and she decides she's crashing at Chez Salvatore for the time being. She also enrolls herself at Mystic Falls high, where her tumbles make her pretty popular for a new girl.
Jeremy's ghost exes are coming between him and Bonnie, with Bonnie pulling the jealous girlfriend routine over Jeremy seeing Anna. She's right to be worried about the ghosts, because Vicki is now Matt's constant companion, and she reveals that she's working with a witch to come back. She just needs to gain an anchor, and she begs her brother to be that for her. Matt agrees, and after a hand-cutting, candle-filled ritual, he brings Vicki back. But once there, Vicki has an agenda to fulfill: stop the hybrids from being created. She goes after Elena, the key to their creation, to kill her.
Drunk Elena is amazing. When she gets tipsy at the bonfire, Elena finally stops being polite to Stefan and starts getting sassy. "You think I'm going to let a blood addict tell me how to drink?" I like this! She also gets a little jealous when Damon flirts with Rebekah in front of her to distract her. Later, when she has a boozy party girl moment on the bleachers, she tricks Stefan into catching her so Alaric can shoot him with wooden darts.
Trying to kill Elena, Vicki traps her and Stefan in a burning car. Realizing his mistake, Matt enlists Bonnie to cast a spell to get rid of Vicki. All he has to do is say goodbye to her forever, and poof, she's gone. The same can't be said for Anna; after she and Jeremy admit they can't stop thinking about one another, they touch hands. This definitely means trouble for him and Bonnie. I hope.
Tyler is psyched to be a hybrid, but says he's in total control, cockily compelling teachers and generally acting like a jerk. It seems like he's switching sides when he starts defending Klaus (as Damon says, "Uh oh.") He's showing signs of being "sired" — feeling loyalty to the vampire who created him. Caroline is able to talk some sense into her boyfriend, and Tyler professes that he doesn't want to go to the dark side. I believed him — until Rebekah shows up and offers Tyler the neck of a human, and he feasts.
Elena's in hardcore slayer training now. Alaric helps her out, and then she has a brief, sexy moment with Damon when he shows her, on her body, where to stake Stefan (hey Damon, I need some help too, please). It all comes in handy when Stefan mouths off to her after he wakes up from being darted. When he calls her pathetic for still having hope for him, she responds with a mild staking. Get it, girl.
Oh hi, Uncle Mason! What are you doing back, besides throwing Damon around?
The Bad
I'm so over Katherine; is it wrong that I cackled when Katherine gets attacked this week? She's trying to wake up

Mikael

to find out how to kill Klaus, and when he does, he's reluctant to drink blood. Katherine assures him that drinking blood would make him stronger, but when he says he doesn't eat living things, he demonstrates what he does eat: Katherine. Well, vampires, I guess. That's quite the twist!
The Bloody
Matt cuts into his hand to rouse Vicki from the dead, and it's just a little more graphic than it needs to be.
I guess I should have expected it, but I was a bit taken aback by Tyler taking his first vampire bite from a human. Is he going to get all crazy-like like Stefan on blood?
How was this week's episode for you? Were you loving slayer Elena as much as I was? And what do you think Mason's up to while he's back in Mystic Falls?
Photo courtesy of The CW