The Vampire Diaries Recap of "Under Control"
The Vampire Diaries "Under Control": The Good, The Bad and The Bloody
Family ties play into this week's The Vampire Diaries, as guest star David Anders shows up to make waves in Mystic Falls.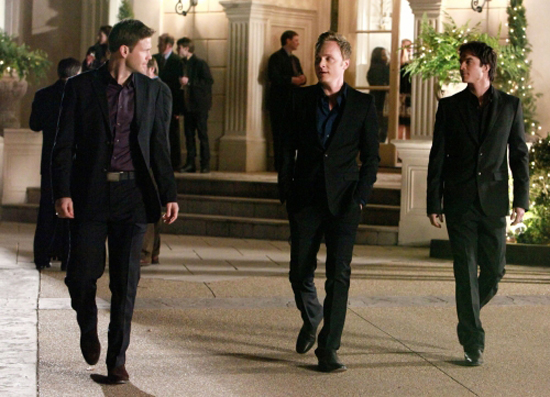 Stefan is battling his newfound addiction to human blood, which sends him on a whirlwind of extreme behavior. I can't wait to discuss it, so to get to the good, the bad, and the bloody, just
.
The Good
Elena and Jeremy's Uncle John make an unwelcome visit back to town. Jenna, who's not a fan (she has a sexual history with him, see), senses that he's there with an ulterior motive. She's right, but when he says it's because he doesn't want her to sell his brother's office, it's not exactly the whole truth. Among the town council, he strikes some fear into everyone when he reports on the alarming attacks on people and losses at local blood banks.
Stefan's taste of human blood has awakened a thirst for it, which Damon loves taunting him about. The need disturbs Stefan, and when things get steamy with Elena later, they also get dangerous. There is a fun side effect, however — Stefan takes up drinking, and at the Founders' Day kick-off party, he gets drunk and kind of hilarious. This Stefan is fun, not broody, and wants to dance! If loving drunk Stefan is wrong, I don't want to be right.
Uncle John turns out to be much more than just a jackass. When he pisses off Damon, he gets his neck snapped and is tossed off a balcony during the party. But before anyone can say "dead body," John is back at the party, alive and ready to boogie. Confronted by Alaric and Damon, he shows them his ring, exactly like the one that Alaric is wearing. Brace yourself: John knows Isobel, Damon, and Katherine; in fact, there's hardly anything he doesn't know. John mentions that he gave his original ring to Isobel, who later gave it to Alaric — and he's the one who sent Isobel to Damon when she wanted to be turned. My theory: If he was with Isobel before, he must be Elena's father! If so, she'd be a Gilbert after all.
Most hilarious part of the hour: Damon just rifling through Elena's underwear drawer and putting his hands on one of her bras. He's such a child (and I love it).
The Bad
There are indeed a lot of questions about Vicki, still, and I'm as frustrated as Jeremy about it. He's right — why isn't everyone up in arms about her being buried in a shallow grave? And isn't she all vampirey-looking in her dead state? Finally, how could they fake an autopsy to look like she had overdosed?
Jeremy accepting that Elena is adopted is just a little too easy. He's grieving over Vicki in the same year he lost his parents; would he really be joking with her already that she's not a Gilbert?
I'm embracing Stefan as a blood-drinking bad boy, so I wish he could too. Instead, he's so conflicted every single time he has the chance to drink blood, but he doesn't even do anything that bad "under the influence." Just breaking that rude guy's hand rather than killing him and sucking him dry? So boring. Just because you're strengthened by blood doesn't mean you have to be sadistic (or does it?).
The Bloody
Matt attacks Tyler when he sees him making out with his mom, Kelly (justified, if you ask me), but there seems to be a lot of blood when they're separated. I want to know what Alaric asks — what is going on with Tyler?
Injured in the Matt/Tyler cross-fire, Kelly has a huge gash on her forehead, which Stefan sniffs out immediately. Transfixed, he smears it on her head like a big weirdo until she asks what he's doing. Outside the party, it's so clear he's going to lick his fingers that I just wanted him to do it already. Finally, he does, slurping those digits like he just ate some barbecue ribs off them.
On the whole, I thought it was a fantastic episode. I could tell something was up with John Gilbert, but I didn't think he would be so mysterious — or so psychotic. Is he merely a human with a special ring, or is there something more to him? Tell me your thoughts below and you've got to join the Hooked on Vampire Diaries group in the Buzz Community if you just can't get enough!
Photos courtesy of The CW