Vampire Diaries Season 3 Finale Recap "The Departed"
The Vampire Diaries Season Finale "The Departed": The Good, The Bad, and The Bloody
Season three of The Vampire Diaries has come to an end, folks, and forgive me if I am still sitting here with my jaw wide open. The finale is eventful, to say the least, and like seasons past, we saw the deaths of a couple of characters — along with the red herring deaths of a couple of characters. Oh, and by that I mean that something super crazy happens in the final moments of the episode that we'll be talking about all Summer.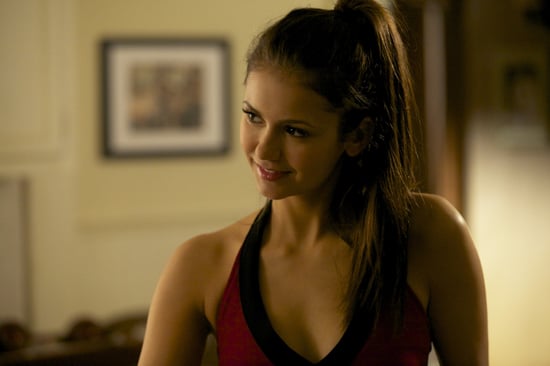 I can't really talk about too much before the break without spoiling everything, so let's get to it. Dry your tears over that fact that there won't be any new episodes of The Vampire Diaries for a few months, and let's get to the final good, bad, and bloody of season three after the jump.
The Good
ELENA IS A VAMPIRE. Sorry, I couldn't wait until the end of the recap to write it out! I'm still in shock.
But here's how we get there: We pick up in the hospital after Elena's fainting spell last week, and she's under the care of Dr. Meredith Fell, who uses vampire blood to cure her patients, as Alaric conveniently reminds us as he goes to tell Dr. Fell that she's being suspended from her job, as are Sheriff Forbes and Mayor Lockwood. Alaric's next move is to find Klaus's body and kill him with the white oak tree stake, thus killing all the vampires in his bloodline, including Damon, Stefan, Caroline, and Tyler.
Klaus's body is what everyone wants this week (I'm resisting the urge to make a dirty joke here), and Elijah comes back to town to bargain with the gang. If he, Rebekah, and Kol can have Klaus's body, he'll help them take down Alaric. Alaric is trying to beat them to it, and Jeremy sends him on a wild goose chase through the woods. Klaus's body is really in a storage unit, and when Damon takes Bonnie to see the body, she requests a moment alone to confront Klaus's lifeless body about the destruction he's caused to her loved ones (from the realm of the unnecessary: his eyes pop open and he's covered in worms). More on that little "moment" later.
Alaric finds the unit and knocks out Damon, but when he finally figures out which storage locker has Klaus's body, it's empty. He discovers Damon and Rebekah with the coffin, pulls it open, and dramatically stakes Klaus's desiccated body. As he goes up in flames, Rebekah screams and Damon braces himself for imminent death. And I maybe felt my eyes well up a little bit for the loss of Klaus.
But what's this? I started to get suspicious when Damon, Stefan, and Caroline don't immediately die. They just think it's just taking a little while, and during that wait time, Elena starts to say her goodbyes. Matt is her life coach this week, first talking her through her choice between Stefan and Damon, then kidnapping her to safety during the Battle of Klaus's Body. But when they're driving off, they find out the news about Klaus, and she has to make a decision about who she wants to say goodbye to — Damon or the whole group of Stefan, Tyler, and Caroline. She picks the group, but Damon asks her to say who she would have picked if it had been between the two of them, and she admits that it would have been Stefan.
Caroline and Tyler also wonder why they're OK, but when Tyler starts to turn into a werewolf, he tells Caroline to run, and we assume that he's dead. You know who's not dead? Klaus. Bonnie comes to find him . . . in Tyler's body. She had cast a spell on him to have him inhabit Tyler's body to save her friends and mother. Interesting turn of events! So, Klaus isn't dead, but it seems that Tyler is, unless he's just a werewolf roaming the woods.
And finally, Rebekah and Elijah want to kill Alaric, and know they can kill Elena to do so. Rebekah stands in the road, and Matt and Elena veer off the Wickery Bridge — a sad echo of Elena's parents' death, which she flashes back to. When Stefan, again, comes down to save her, she motions for him to take Matt and he does, leaving her there this time. As Damon watches Alaric die at the storage unit, he realizes Elena must be dead too. She's drowned, but when Damon gets to the hospital, Meredith tells Damon she gave Elena vampire blood because she'd had a cerebral hemorrhage earlier. And then Elena's eyes pop open in a very Breaking Dawn Part 1 fashion.
The Bad
It's Elena's turn for a flashback, but we don't get to know her parents that much. She remembers a simpler time when she was a cheerleader, dating Matt, and her biggest problems were whether flare jeans were in style.
Elena never gets to make her choice! She gets a hot kiss from Stefan, and in a flashback, we see when Elena meets Damon, who compels her into forgetting they met, and then she gets into her parents' car, before they crash. It gives a special poignancy to the fact that she says maybe things would have been different if she'd met him first, right? Also, since we saw the scene in Elena's flashback, could there be some way that she actually got that memory back?
The Bloody
There's not so much gross blood in the finale — just death all around. Oh, and since I haven't said it yet: Alaric is finally dead . . . yay. And lest you think I'm mean, I say: It was just his time. It was just his time.
So again, wow. The season finale definitely doesn't disappoint, and I'm dying to know what you all thought. Other things I'm dying to know: Will we see both Michael Trevino and Joseph Morgan again? And is Elena really a vampire? Is Tyler really dead? Let's chat about it now!