The Vampire Diaries Season 5 Spoilers From Comic-Con 2013
The Vampire Diaries at Comic-Con: Damon and Elena Will Be Happy "For a While"
The cast of The Vampire Diaries came to Comic-Con for yet another year to talk about the upcoming fifth season and show off some footage. The Comic-Con veterans — including Ian Somerhalder, Nina Dobrev, and Paul Wesley — were ready with tons of clips while giving away tons of details about season five, and lots of burning questions that were left over from the most recent season finale got answered. Keep reading to find out about how the cast and executive producer Julie Plec addressed Damon and Elena's romance, how the return of Jeremy will be handled, and how Bonnie will figure into the season.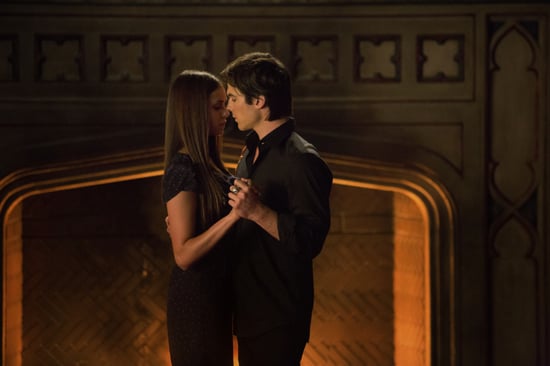 The status of Damon and Elena's relationship was addressed, and while Somerhalder said he didn't think anyone gets a happily ever after in Mystic Falls, Plec was more positive. She said that there's less TV drama when people are happy, but she cited other examples where it's worked, like Meredith and Derek on Grey's Anatomy, so she said they'll be "trying to keep them happy for a while in the midst of all the bad things that are trying to tear them apart." Somerhalder added, "It's the honeymoon phase," and, "The interaction between him and Elena is really cute."
Somerhalder and Wesley had a funny back-and-forth when the cast was talking about Damon and Elena together. Somerhalder said that when he found out the characters were going to be together, "I thought they were joking. Damon never gets the girl." Wesley then jumped in to say, "Don't underplay your sexy blue eyes! Don't downplay the Smolderholder!" Wesley wished the new couple well (sort of), saying, "Enjoy it, buddy, because I did it for three years. It gets exhausting." He explained, "I like being evil. I'm sorry, I do." But to make sure he didn't offend costar Dobrev, he assured her, "I like being evil, but I love you."
So what's Katherine's life going to be like now that she's human? "She's going to be lost and weak and insecure," Dobrev said, adding, "It's going to be tough. It's going to take a lot of getting used to." Somerhalder is a fan of the transformation, though: "I love seeing her humbled and ratty. It's awesome."
Candice Accola said Caroline is still in love with Tyler when the season starts: "She's pretty determined to get Tyler to college, so they can finally be together since Klaus is gone." (And most of the crowd must have been Klaroline fans, because there were lots of boos.) On the subject of Joseph Morgan's departure for The Originals spinoff, Somerhalder said, "We're a little bittersweet about this, Julie." But Plec didn't dismiss the idea of a crossover: "Never say never. Klaus will have his hands full in New Orleans. The question is, will Caroline have her hands full of Klaus in New Orleans at any point?"
Jeremy's reemergence from death will have to be explained, and Plec said it's tackled immediately in the season premiere. "Elena rehearses him through his cover story about how he faked his own death, burned down his house, and ran away from home." There you have it.
We saw some footage of season five, which gave us a peek of Stefan resurfacing from his watery prison, and

Silas

holding court in the town square, informing the people he'd drank a lot of blood and was now wondering how much power he had. We also saw Bonnie in the footage, and Katerina Graham talked about how Bonnie will be involved this season. She's dead, "on the other side," and "the only person she can communicate with is Jeremy."