Vegas TV Show Pilot Review
Pilot Scoop: Vegas
One of CBS's new series this Fall features a star making the move from film to TV: Dennis Quaid. In Vegas, Quaid plays Ralph Lamb, Las Vegas's real-life sheriff in the 1960s. The drama traces his rise from a rancher to an authority tasked with getting the emerging city under control. Read on to find out my thoughts on the pilot and whether it might be something you'll want to check out when it premieres this Fall.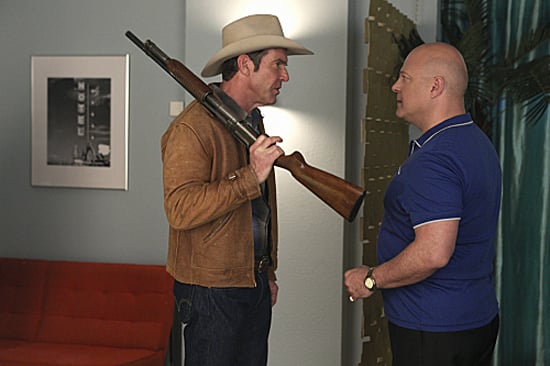 What it's about: In the 1960s, Las Vegas is establishing itself as a gambling mecca, and ruthless gangsters like Vincent Savino (Michael Chiklis) are trying to take control. Old-school rancher Ralph Lamb gets pulled into cleaning up the city when he doesn't like the direction he sees it going, especially when he butts heads with the shady Savino and murders start happening. Lamb also has his brother (Jason O'Mara) and son (Taylor Handley) to help him out.
Where it works: Quaid is always charismatic, and I love seeing him as a cowboy, asserting himself the old-fashioned way (i.e., punching people in the face if they deserve it). Chiklis is also perfectly cast as a tough Chicago mobster.
Where it doesn't: The writers do their best to make vintage Sin City as exciting as it is in modern day, but it's not. The pilot is often boring, despite the great actors in the cast like Quaid and Chiklis.
When it's on: Tuesdays at 10 p.m. on CBS.
You might like this show if: Mad Men has really gotten you curious about what else was happening in the country in the '60s.
See some photos and a preview of Vegas after the jump.