Vegas TV Show TCA Panel
Dennis Quaid: "I Think We All Have a Fascination With Las Vegas"
Dennis Quaid hasn't been part of a TV series since 1977's Baretta, but he's returning this fall on the CBS drama Vegas. The drama takes place in Sin City during the 1960s, the turning point when the city changed into the glitzy gambling capital. Quaid plays sheriff Ralph Lamb (based on the real-life rancher of the same name), who struggles to maintain the culture of the town as the mob rolls in (led by Michael Chiklis's Vincent Savino).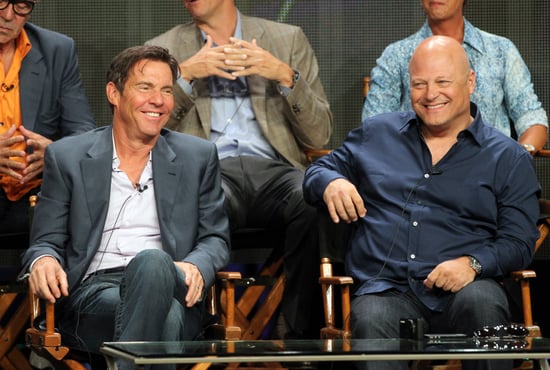 Both Ralph and Vincent are are gritty, dangerous characters, which lead to questions from reporters about how both can survive if the series is picked up. Executive producer Greg Walker assured us that though the tension between them is integral to the series, they'll often both be on the same side of the law because there are characters out there who will be even worse than they are.
Quaid's had a long career as a movie star, so why is he making the transition to TV now? He said, "A lot of exciting things are happening on television now. The best writers have come to television, the best story lines get continued. When I was offered this, it was really about the team more than anything else, and the story really interested me. It seemed really authentic."
Quaid went on to say that the time period had a lot to do with why he was attracted to the project: "It's the era I grew up in. I'm still fascinated with what America was back then. There's such vibrancy, optimism, exploration, and sexiness. It was in the air. It was electric. We didn't have cell phones."
Another part of the appeal for Quaid was playing a real-life character. He said, "[Ralph] had quite a life and that was certainly part of the attraction, to be the sheriff of Las Vegas for 20 years, especially during this period of time because this is really when Vegas became Vegas, and Ralph had a lot to do with shaping that."
.