Veronica Mars Movie Release Date
Veronica Mars Movie: The First Footage, Piz's Death Threats, and a Release Date!
The cast of Veronica Mars recently reunited after almost a decade to shoot the Kickstarter-funded movie, and today we got a live reunion of the cast when they showed up at Comic-Con. Cast members Kristen Bell, Enrico Colantoni, Tina Majorino, Jason Dohring, Chris Lowell, Ryan Hansen, Francis Capra, Percy Daggs III, and series creator Rob Thomas chatted about the upcoming movie and reminisced about the series that started it all. The highlight of the panel was seeing the first footage from the movie, but it was also great watching the very close cast interact and talk about the show. Read on for what we saw and the best tidbits, particularly Lowell's post-Veronica Mars struggles with fans who don't necessarily love his character, Piz.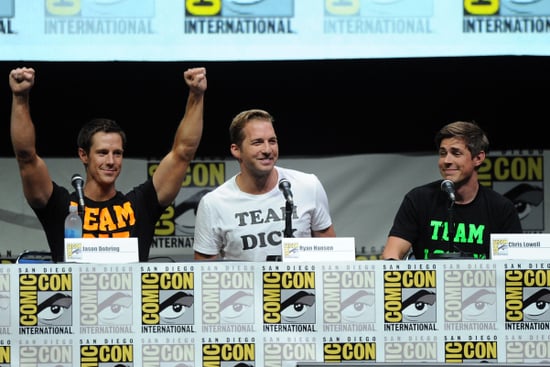 Thomas set up the footage by telling us that Veronica hasn't worked as a private detective since the last time we saw her in season three, and she deals with "getting pulled back into this life she thought she left behind." We didn't see a trailer, but a few different scenes, including an introduction of Veronica being interviewed by Jamie Lee Curtis. We find out that Weevil is married, but not who he's married to, and we also saw a funny scene where Veronica and Mac (Majorino) run into Dick (Hansen) and trade insults.
We heard a Veronica Mars movie release date! Or a rough timeframe, anyway. Thomas said the movie will come out in early 2014.
Bell said that she felt "a lot of excitement and a lot of unknown jitters" when she came back to shoot the movie, but her more interesting admission is when she answered where she was when she had heard that Veronica Mars the series was canceled. She found out the day before she shot the scene in Forgetting Sarah Marshall where her character finds out her series has been canceled. She laughed that "it was really deep and hurtful for me" to shoot that scene.
Lowell — who was wearing a "Team Logan" shirt, while Dohring was wearing a "Team Piz" shirt — joked that "I wore this shirt today frankly so I wouldn't be shot." Lowell talked about the backlash he's received from Veronica Mars fans, because Piz was responsible for breaking up Logan and Veronica's relationship. "[Fans] approached me like I broke up their relationships!" he said. In fact, when Thomas called him, he joked that he thought, "The death threats had almost stopped! Why now? Why now?" But then he ascertained that he was so excited to be back.