A Very Harold and Kumar 3D Christmas Movie Review
A Very Harold & Kumar 3D Christmas: A Highly Recommended Holiday Treat
A Very Harold & Kumar 3D Christmas is, in a word, silly. But here's why I loved it: the ridiculous hijnks made me laugh out loud, the 3D actually makes the movie much better, and it packs just the right amount of humor and holiday cheer into the metaphorical pipe.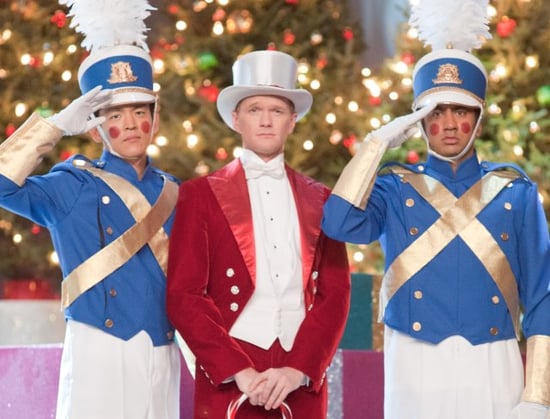 It's been seven years since Harold (John Cho) and Kumar (Kal Penn's) fateful trip to White Castle, and they've grown up quite a bit since then. Well, at least Harold has — now married and settled down in the New Jersey suburbs, Harold has left his days getting high with Kumar behind in favor of making the big bucks on Wall Street and trying to start a family. Aimless Kumar, on the other hand, is hitting his bong harder than ever now that girlfriend Vanessa has dumped him. The former BFFs are brought back together by a mysterious package for Harold that shows up on Kumar's door. When its contents — a giant joint — sets fire to the prized Christmas tree grown by Harold's overbearing father-in-law, the incident ignites a reunion for the guys as they set out to replace the Frasier Fir.
To see why I loved taking another ride with Harold & Kumar, just read more.
The formula is basic: it's a night of horrible incident after horrible incident that would make you want to crawl under your seat if it wasn't so entertaining. As Harold and Kumar are consistently thwarted from their plan of securing a tree, they encounter gangsters, a strangely endearing waffle-making robot, and of course — Neil Patrick Harris. Peppered throughout are nods to other holiday films and the Harold & Kumar franchise itself. Devotees of the franchise will appreciate the winks, but the movie also stands on its own just fine.
3D movies are a dime a dozen these days, which is why I especially appreciated the fact that Harold and Kumar plays up the technology at every turn. We're talking smoke rings in your face, egg yolk in your face, and the like, but the execution enhances the experience like no movie since Avatar. The humor here is raunchy, over-the-top, and often offensive, but it also happens to be side-splittingly funny. If you've seen the first two Harold & Kumar movies, then you know what comes with the territory, so it's best to just let the jokes leap out of the screen and come right at ya.
Harold and Kumar's rift is easily the most believable aspect of the plot, and their wounded egos and jabs at each other give the film heart (an important piece that was missing from Harold & Kumar Escape from Guantanamo Bay). What ultimately keeps A Very Harold & Kumar 3D Christmas on track is the message that's buried under all the drugs and nudity: tis the season to forgive and forget. And if you're anything like Harold & Kumar — to get high with a little help from your friends.