Video of Betty White Super Bowl Commercial, Auto Tune Super Bowl Commercial
What Was Your Favorite Super Bowl Ad?
Time for a post-Super Bowl water cooler debate: this year's ads! I'm still scratching my head over the multiple spots featuring men in underwear, but a few made me chuckle without resulting to stripping down (I'm looking at you, Go Daddy). Take the celebrity cameos, for instance. I loved Betty White's "That's not what your girlfriend said" line for Snickers, but I was also excited for the return of the Griswolds and a watch party with Letterman, Oprah, and Leno. How the heck did Dave get Jay to help promote his own late-night show?!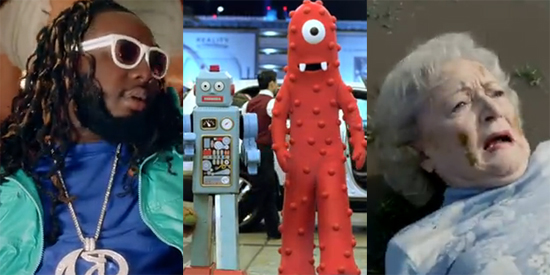 In the category of amusing to downright silly, T-Pain auto-tune for Bud Light was goofy in a good way, and the Kia Sorrento spot which had a sock monkey and his toy friends on a joyride made me smile. But at the top of my list for sure: Google's relationship web search, which was unexpectedly sweet in the midst of all the beer-chugging and screaming chickens.
Did you have a favorite? Tell me! And if you want to relive some of the standouts of the bunch, check 'em out when you
.