Video Preview of New CBS Show Blue Bloods With Tom Selleck and Bridget Moynahan
Fall TV Spotlight: Blue Bloods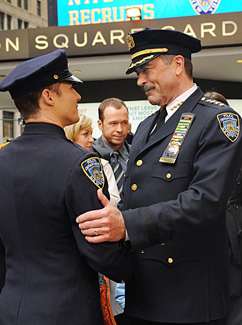 I've already taken a look at the lighter offerings of Fall TV, like Hellcats and $#*! My Dad Says, but now it's time to take on the heavier stuff with new CBS drama Blue Bloods.
Who's in it: Tom Selleck, Bridget Moynahan, Donnie Wahlberg, and Will Estes, who I still have a crush on from Reunion (RIP).
What it's about: Selleck plays Frank Reagan, New York City's Chief of Police and father to two sons who also wear the uniform, Danny (Wahlberg) and Jamie (Estes); daughter Erin (Moynahan) serves as N.Y. assistant D.A. The show depicts the close-knit family at home and working on the streets, as they try to help each other solve the latest case.
Why it caught my attention: Think Brothers and Sisters meets NYPD Blue. I don't usually get absorbed in cop shows, but I like that this one has a personal element with the family. Plus, it has the writers from The Sopranos behind it for instant cred.
Show most likely to: Show grown men crying.
Watch the promo when you read more.