Video Trailer Sneak Peek for Showtime's United States of Tara Season 2 2010-02-10 12:30:54
Sneak Peek at United States of Tara Season 2!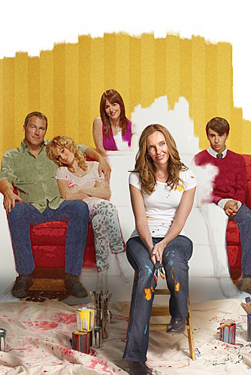 Just when you thought United States of Tara couldn't get any more complicated — one woman, four different personas — one of her alter-egos is getting a love interest. To give the quick rundown, there's T, the bratty overtly sexual teenager; Alice, the goody-goody 1950s housewife; Buck, a beer-swilling dude; and appearing briefly last season Gimme, an animalistic (urinating) embodiment of the id. And there's Tara, the woman with dissociative identity disorder at the middle of it.
So who finds love? From the looks of it, Buck is smitten with a bartender (played by Joey Lauren Adams!). Just one problem — Buck is actually Tara...who's actually married...to a man. Another unusual twist: Tara's gay son Marshall (aka "Moosh") is apparently trying to be straight. Really.
I'm pumped to see all the regular players return here — Rosemarie DeWitt as Tara's sister Charmaine, John Corbett as her husband Max, and of course, Toni Collette, who won both an Emmy and a Golden Globe for her portrayal. Add that to writer Diablo Cody's quirky brand of humor (and the introduction of a brand-new alter named Shoshanna), and this is sure to be yet another stellar — albeit, twisted — season. The premiere is March 22, but check out the trailer when you
.
Photo courtesy of Showtime