Viola Davis on Prepping Her "Loser Face" at Critics' Choice
Viola Davis Says She Had Her "Loser Face" Ready Before Her Best Actress Win Tonight
Viola Davis made an emotional speech tonight after taking the best actress honor at the Critics' Choice Awards. The actress stopped by to discuss that heartfelt speech, as well as her surprise over winning, in the press room shortly after leaving the stage. Viola talked openly about the controversy The Help sparked, the many movies she's thinking about making next, and how she was planning to spend her evening before she learned she was the winner in her category.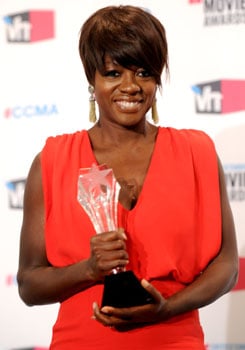 On how she makes such great speeches: "I have no idea, seeing that I had my loser face ready. I had a glass of champagne just so that I could relax all the muscles so the smile could come naturally. I guess I've always had a lot to say, you know? And I always felt like if I had a platform to say it, it would be God's greatest gift for me. But that's all I can say."
On not expecting her win: "I was really going to be OK. I was going to go home and get in my jacuzzi with my husband and you know, maybe have lots of champagne. I was good with it."
On what project she wants to do next: "Oh gosh, there's so many. I mean, there's so many that I've optioned. I have a story, the The Personal History of Rachel Dupree . . . I've always wanted to see all of Octavia Butler's work on screen. She's a black science-fiction writer. I want to be in a sci-fi . . . to be slaying dragons. It's endless, the possibilities. The narratives I've always wanted to be a part of that I've never seen myself in, and so there's not enough time in the day to tell you."
On whether she was surprised by The Help's success: "I thought it was going to go one way or the other, that it was going to be a huge success or a huge failure. It had that mark on it. It was about the maids in 1960s Mississippi with a very thick dialect, and I knew the African-American community was not happy with it, and yet I knew it had a huge fan base, so I knew it could go either way. And I'm glad it went this way."