The Voice Season Two Press Conference Quotes
Christina, Adam, Cee Lo, and Blake Give Us a Sneak Peek at The Voice's Second Season
Earlier this week, we stopped by the set of The Voice to hear from the singing competition's four coaches: Christina Aguilera, Adam Levine, Cee Lo Green, and Blake Shelton. The sophomore season of the NBC reality competition will kick off in the prime post-Super Bowl spot on Feb. 5, and the foursome were on hand, along with host Carson Daly, to share a preview of what's ahead in 2012. They talked about how the competitors have changed since season one, why they believe their show stands out among other TV talent contests, and how they're staying involved in the careers of last year's finalists. Here are some highlights: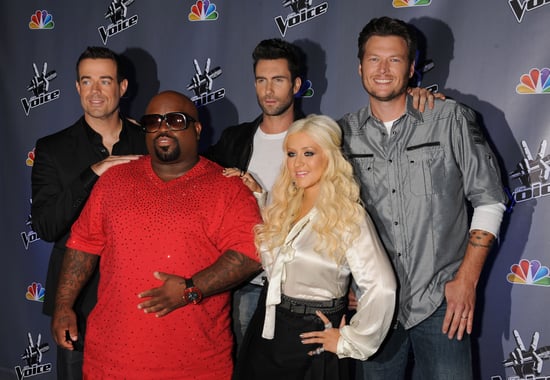 Christina on next year's format:
"People wanted to see more of the blind auditions. That's an amazing part of the show. It keeps all of us on our toes as judges, coaches, as viewers, as the contestant . . . and this year we have to choose 12 people to be on our team as opposed to last year, which there was only eight. So you're going to see more of that [blind audition] moment."
Adam on collaborating with last year's champ Javier: "He's finishing up his record. I just sang on one of his songs that Pharrell [Williams] did. It sounded amazing . . . it's coming out soon."
Blake on how season two's competitors are different: "I actually — which pisses me off still — had a guy ask me . . . I turned around and was telling him how I wanted him on my team, and giving him every reason why I should be his coach, and he said to me and whoever else it was: 'I already know y'all like me. I want to know which one of you are going to keep me.' Because he was already thinking ahead to those battle rounds. He knows what's going to happen when we get to those battle rounds and he wants a commitment further than that, and that's what we're faced with because people watched the show last year and they know the game . . . So I told him to kiss my ass."
For more from the press conference, just read more.
Adam on what distinguishes The Voice from other shows: "The most important thing is that we focus, all of us — I mean, we mess around, we have fun up here — but at the end of the day, it's really about developing talent, because it's become something that really can be a potential launch pad for musicians and artists and singers. That's an exciting prospect, especially being in a business that's kind of odd. It's kind of like the Wild West right now and no one really knows which way is up . . . It is unlike any other show in my opinion"

Blake on why he initially signed on as a coach:
"I signed on to do it originally because of the three other artists that were involved. I kind of dragged my feet a little bit as far as making a commitment . . . and once I saw who the other three were, [I thought] 'Holy sh*t! I read about Christina Aguilera all the time. I know she's a big deal. And I know these people know what they're doing in this business, [which is] not my world, so I just decided to do it basically because I figured the three of them would know something I didn't know!"

Cee Lo on performing at the upcoming Victoria's Secret fashion show: "Yeah, I'm excited about it. I mean, beautiful women? What's to complain about? I've already got my outfit picked out."
Christina on whether last year's finalists actually landed record deals: "I think all of them have . . . That's the great thing about the show. Even if you don't win the end title, you're just out there on such a massive scale where anything's possible for your career even if you don't make it to the end and actually become a winner. Dia's going on tour with [Blake], I know."