The Walking Dead Panel at 2010 Comic-Con Features Frank Darabont and Star Andrew Lincoln
Zombies Invade Comic-Con With The Walking Dead Panel
This year's Comic-Con hasn't just been all about upcoming movies like Salt and Scott Pilgrim vs. the World — there are new TV shows being showcased as well. Fall drama The Walking Dead — aka AMC's new zombie show — made a splash with its panel, featuring sneak peeks of the series and juicy info from the cast and crew.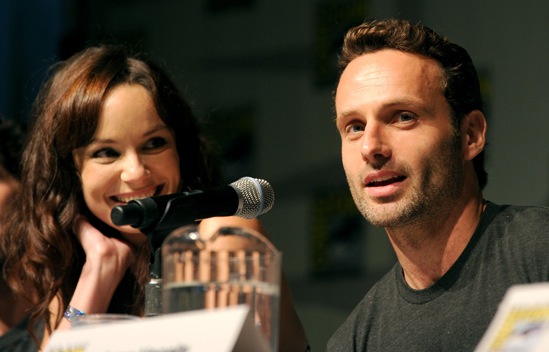 The preview clip gave me chills for several reasons. While one producer confirmed that, yes, "if you're a zombie fan, look no further than The Walking Dead," the show is very character-driven. The footage we saw showed Rick Grimes, the main character, who wakes up in the hospital after a "zombie apocalypse" and fights for survival with a few fellow humans who are left. I'm not ashamed to admit that I'm a chicken, but for the small amount of acting and intensity we got to see, I think I'll put it in the same category as I do True Blood: I may have to shield my eyes once in a while, but it's worth it.
If the actor who plays Grimes looks familiar, you're probably a Love Actually fan: Andrew Lincoln was Mark in the romantic comedy (the poor chap who falls in love with his best friend's wife, played by Keira Knightley). Once I recognized him, I got even more excited for the show, as he's the figure that all the action seems to revolve around.
To hear more about The Walking Dead, just read more.
When the producers — including Shawshank Redemption director Frank Darabont — were asked what the series has in common with AMC's other programming, they invoked two words: "phenomenal storytelling." Indeed, they seem to have chosen the right network, as the gore level hasn't been capped yet. As the comic book creator Robert Kirkman said, "Our network is known for pushing the envelope. Once in a while, somebody's gonna get eaten." So maybe don't watch during dinnertime.
The comic book creator, Robert Kirkman, is very involved in the series, having written an episode. This placated the hundreds of fans of the source material, though Kirkman added that he wants "the comic and the show to exist separately and [both] be compelling."
In stark contrast to the creepy drama of the show, there were some laughs from the panel, mainly about the cast that plays the zombies. "Nobody ever wants to eat with the zombies in the cafeteria."
I'll leave with the words of a showrunner: "The world will know The Walking Dead is out there, come October."
Be sure to check out all of my Comic-Con coverage and follow me on Twitter for live updates!