The Walking Dead Season 4 Trailer
The Walking Dead at Comic-Con: The Trailer, the Season 4 Tidbits, and Who Got Booed
The Walking Dead cast filled up Hall H at Comic-Con, and they rewarded fans with lots of good stuff, including the world premiere of the season four trailer, hints about the upcoming season, and lots of witty banter. The human relationships were the hot topic during the panel for the zombie show, whether it was romantic, friendship, or parental. Keep reading to get the cutest and most illuminating quotes from cast members like Andrew Lincoln, Danai Gurira, Lauren Cohan, David Morrissey, and Norman Reedus — and see the brand-new trailer yourself!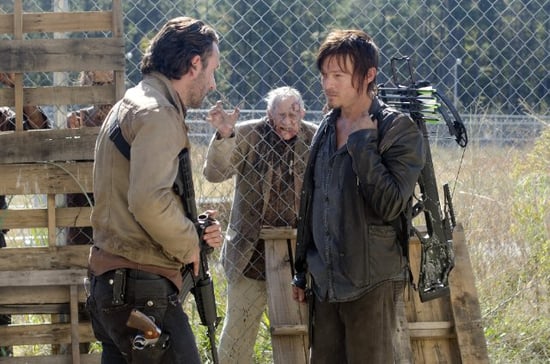 In the trailer, which you can see below, the characters have gone back into the prison, and Lincoln said the answer why is revealed this season. As for his character, Lincoln said, "You find Rick in a completely new place. He's trying to repress his brutality, and he's renounced quite a lot of responsibilities and leadership for the sake of his children." Speaking of his children, Lincoln said Rick's relationship with Carl is "integral to the beginning of this season."
If you guessed that the cast member who got booed was Morrissey, who plays the villainous governor, you'd be right. (He took it in stride though.) Morrissey defended his character, saying that at the end of last season, the governor was in a "dark place" because he was betrayed, "and that's not going to go well with the governor." He jokingly added, "He went off with two of them! He didn't kill them all! You just gotta be on my side! That's the deal with the governor, you know?"
Gurira was asked by moderator Chris Hardwick if her character, Michonne, can balance the emotional demands, and she purred, "She's every woman, baby!" When asked if the physical demands have gotten easier the longer she's on the show, Gurira emphatically said, "It doesn't get easier! Which is great; you're kept on your toes."
Steven Yeun and Cohan talked about the relationship of their characters,

Glenn

and Maggie, and Cohan noted that, "When we see them again this season, we'll see that it's something that has strengthened them." Despite what she went through with the governor, Cohan said it pushed Maggie into a whole new journey.
When Scott Wilson was asked what Hershel's motivation is this season, he happily replied, "Hold on to his other leg!"
Watch the trailer for The Walking Dead season four, which premieres Oct. 13, after the jump.