The Walking Dead Season One Finale Review
What Did You Think of The Walking Dead Finale?
For a show with an incredibly short first season, The Walking Dead hasn't been afraid to lay everything out on the table. In only six episodes, the series has killed off several characters and given us enough gore to turn even the strongest stomachs. The bar was set pretty high leading up to last night's episode, which made me curious to see how the first season would close.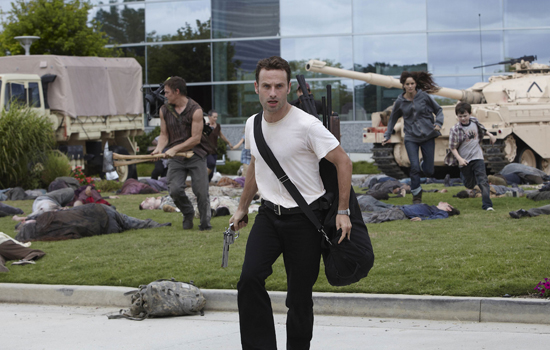 The episode focuses on Rick and the other survivors as they enter the CDC to escape the zombies and get some answers. At first, the place is like paradise, with working hot showers and enough wine to get everyone intoxicated. But things quickly turn into a ticking time bomb — both literally and figuratively. Shane's resentment toward Rick and Lori explodes, Andrea can't shake her sister's death, and the CDC doctor is acting a little strange.
While the episode doesn't pack a ton of action, it's definitely intense (the similarities to Lost seemed more apparent than ever). I would've liked more information regarding other survivors or a cure, but there was one cliffhanger that will keep me tuning in for next season: what does Dr. Jenner whisper in Rick's ear? Chime in with your theories on their secret and on the episode in general. And don't forget to check out out The Walking Dead Fans group in the BuzzSugar Community.