Wanderlust DVD Release Date
What to Rent: New DVDs This Week
In addition to the following DVDs, Project X is also available.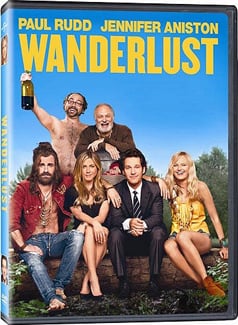 Wanderlust
Confronted with sudden unemployment, George (Paul Rudd) and his wife, Linda (Jennifer Aniston), must say goodbye to their NYC miniloft, swallow their pride, and head to George's brother's house to live temporarily. On the way there, they spend one magical night at Elysium, a commune in the wilderness, and following a confrontation with George's brother, they return to Elysium. There they discover the joys of living a life free of material possessions but also discover that the new way of life isn't exactly perfect for them. DVD extras include audio commentary by director David Wain, a gag reel, featurettes, and an episode of Wain's Web show.
59%

Big Miracle
Inspired by true events, Big Miracle chronicles the story of a reporter (John Krasinski) who discovers that three grey whales are trapped under ice in the Arctic Circle. He calls on his animal activist ex-girlfriend (Drew Barrymore) to draw attention to the situation and figure out a way to save the whales, and eventually the dilemma becomes an international sensation. Ted Danson, Kristen Bell, and Dermont Mulroney also star in the family-friendly animal tale. The DVD comes with commentary from director Ken Kwapis, deleted scenes, and two featurettes.

74%
One more DVD when you read more.

Jeff, Who Lives at Home
Jason Segel stars in this indie comedy as Jeff, a likable 30-something who is still living with his mother. Though his life is mainly limited to sitting in his basement, smoking weed, and running errands for his mom (Susan Sarandon), Jeff believes something greater is leading him to his destiny. Over the course of a day, he reconnects with his tightly wound brother, Pat (Ed Helms), follows Pat's wife (Judy Greer) and her male friend around town, and makes an impact on someone else's life.

78%