Wanderlust Movie Review
Wanderlust: Could Have Used Some More Direction
Many of the characters in Wanderlust preach about freedom, whether it's in relation to work, love, or clothing, and the philosophy seems like it was over-applied to the making of this film, because it ends up completely lost. Paul Rudd and Jennifer Aniston play married couple George and Linda, Manhattanites who have just put all their money into buying a home in the city when George loses his job, and thus, their new apartment. On their way to stay with family, they get derailed at Elysium Bed & Breakfast, a property that's more hippie than hospitable. George and Linda like their taste of living on the commune, so they decide to try out the lifestyle and challenge their uptight sensibilities. The setup is rife for humor, but Wanderlust is too thin on story and character development to be the fun romp that it could be.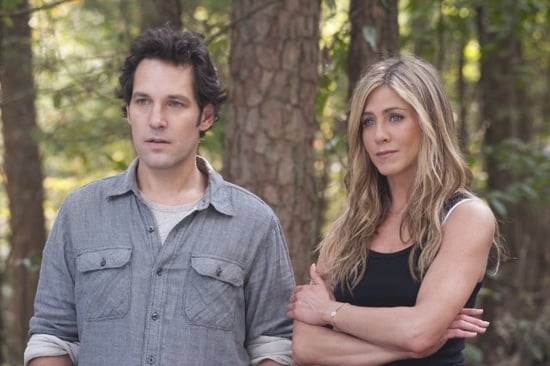 Wanderlust has so much promise onscreen and off (writer/director David Wain is also behind Wet Hot American Summer and Role Models), but even with an occasionally funny script, Rudd and Aniston's shared charm can't save a movie that would have been better suited for a five-minute sketch. To find out my other problems with the film, just keep reading.
The plot is Wanderlust's biggest problem; once George and Linda get to Elysium for good and ask "what now," the movie does the same thing. There are no compelling story lines, but there are subplots that feel more like distractions, like the predictable scheme of a casino developer who wants the land Elysium occupies. You're not really sure what you should be invested in: George and Linda's relationship, George and Linda discovering who they really are and what they want, or whether the Elysium residents might lose their home. And not only do you not know what you're supposed to feel, you don't care.
Rudd gets close to being the saving grace of the movie; there's no joke too dumb or filthy that Rudd can't deliver while still retaining his appeal. There are lots of hilarious moments from him, plus some painfully funny scenes with supporting players like Michaela Watkins as an unhappy McMansion-dwelling housewife and Kathryn Hahn as an angry hippie, but those bright spots of humor are dimmed by the other lazy jokes about nudity, drugs, and bohemian behavior.
The waste of potential is what's so disappointing about Wanderlust; there is so much talent and comedy chops within the cast that you hope they can rise above the material. They can't, and though the actors do look like they're having a good time, they forgot to invite us along.
Photos courtesy of Universal Pictures