Warm Bodies DVD Release Date
What to Rent: New DVDs This Week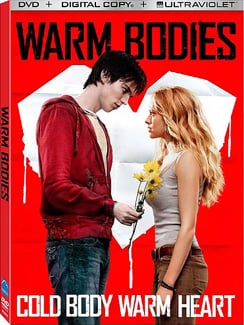 Nicholas Hoult and Teresa Palmer are paired as star-crossed lovers, kept apart by the simple fact that she's alive, and he is not. Though technically a zombie, Z (Hoult) has thoughts and feelings, including some especially warm ones for his new friend Julie (Palmer). It's a shame humans and zombies aren't on great terms and that Julie's dad (John Malkovich) happens to be in charge of taking out all the undead. Despite some rotting flesh, the movie is fresh, relatable, and funny. The DVD comes with several featurettes, a gag reel, and director's commentary.
Jason Bateman brings his signature straight-man shtick to this forgettable comedy, costarring Melissa McCarthy as a complicated woman who makes a living stealing people's identities. When she targets Sandy (Bateman), he embarks on a trip to find her before she ruins his life. Their resulting road trip has funny gags and some great physical comedy from McCarthy, but it's not a must see. The DVD includes a gag reel, making-of featurette, and unrated and theatrical versions of the movie.
It's probably never a good day to watch the latest in Bruce Willis's Die Hard franchise. Willis returns as John McClane, but this time he's joined by his estranged son, Jack, played by the sexy Jai Courtney. Their father-son moments are cute, but the whole saving-the-world-from-terrorists plot is played out, the action is too over-the-top, and the twists are predictable. Included on the DVD: commentary from directors John Moore and Mark Cotone, deleted scenes, and a making-of featurette.