Warm Bodies Movie Review
Warm Bodies: A Zombie Comedy With Brains
Zombies have been invading movies and televisions for decades, but few if any of those films or shows have examined what it's like inside the minds of the undead — which is part of the reason why Warm Bodies offers a fresh take on the genre. The comedy centers on R (Nicholas Hoult), a young-looking (and, frankly, kind of cute) zombie whose mind is still intact, even if his memories and motor skills aren't. When R meets Julie (Teresa Palmer) during a routine flesh-eating fest with his fellow undead, he feels a sudden desire to protect her. And what unfolds is a tender love story that, believe it or not, is also relatable.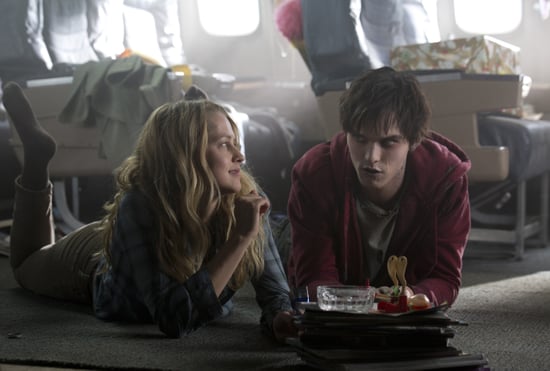 Warm Bodies solidifies Hoult has what it takes to carry a film, injecting just the right amount of charisma and comedy under all of that zombie makeup. What R lacks in verbal communication he makes up for in witty internal monologue, sharing the trials and tribulations of eating brains with the audience and reminding himself not to be too creepy around Julie. Julie herself is understandably hesitant to believe R's grumbles that he won't hurt her but soon becomes intrigued with how gentle he is — not to mention his surprising amount of nostalgia for records and other artifacts that he collects. Translation: he's a zombie hoarder. The pair actually connect in a way that feels authentic and fun to watch. It's basically a combination of Beauty and the Beast and Romeo and Juliet, but with a lot more laughs.
To see what else I liked about Warm Bodies, just read more.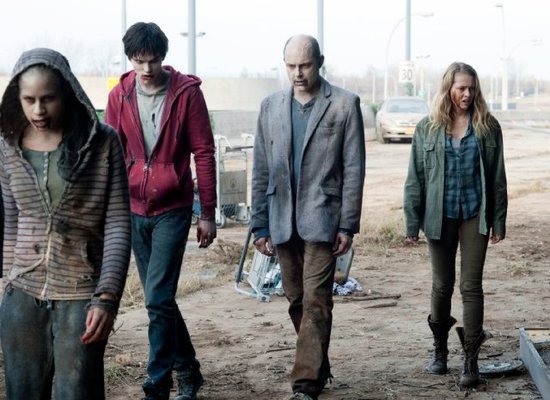 The relationship between Hoult and Palmer is the main event here, but the additional touches are what prevent the story from being too generic and too cheesy. Music plays an important role as something that R and Julie can bond over, which allows the killer soundtrack to provide its own laughs for each perfectly timed song (case in point: R begs Julie to believe him with Guns 'N Roses' "Patience"). The supporting cast is also solid: Analeigh Tipton brings laughs as Julie's best friend and the voice of reason, and even in zombie form, Rob Corddry manages to pull out some of the best lines of the movie.
Between the love story and the one-liners, there's still a healthy dose of gore and a gun-toting, zombie-hunting party, led by Julie's dad (John Malkovich). And Julie's not quite a damsel in distress; she's more of a badass who is optimistic about finding a zombie cure. The combination of these elements makes Warm Bodies a zombie movie with a twist and proves that it's not too late to teach the undead new tricks.