Warrior Movie Review
Warrior: An Emotional Knockout
A lot of sports movies focus on underdogs, and while Warrior is no exception, it offers much more than a tale of athletes facing incredible odds. Brendan (Joel Edgerton) and Tommy Conlon (Tom Hardy) are two estranged brothers who find themselves training for the same mixed martial arts competition with a $5 million dollar prize. After physics teacher Brendan is suspended from his job without pay, he goes after the prize money so that his family can keep their home. Former Marine Tommy, who has suddenly returned from his service in Afghanistan, is also anxious to get a hold of the cash, though his motives aren't immediately clear. When they finally step into the caged ring, you're just as concerned with the outcome of the physical battle as you are with the emotional one that has broken the family.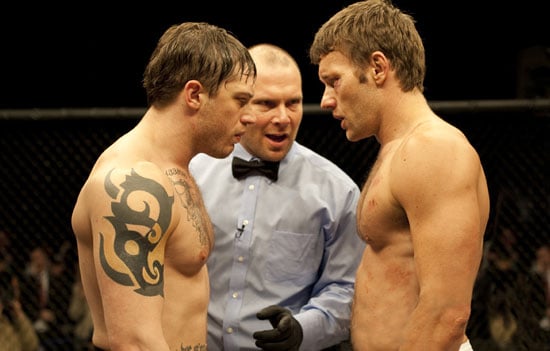 As the pair prepares for the fight, they cross paths with their reformed alcoholic father Paddy (Nick Nolte). Tommy decides to train with him, despite the fact that he loathes his dad, while Brendan resists a relationship with him when the old man attempts to apologize for his wrongdoings. The familial rift that has caused these men to grow apart is revealed slowly, and done in such a way that you become emotionally invested in each fighter. I was surprised that a movie about cage fighting could capture the strained dynamic between brothers so well. To find out why I found myself rooting for each brother in and out of the ring, just
.
When the movie opens, Tommy shows up on his father's doorstep, having returned from Afghanistan full of rage and resentment toward his family. Tommy comes off as a bit one-dimensional throughout the story; he rarely speaks unless it's to reject his family's efforts to connect with him or spout angry grievances about the past. Hardy makes up for the character's reticence by expressing his angst through powerhouse fighting scenes. As Tommy's story unfolds, including insight into what he experienced in Afghanistan, you begin to understand his outrage and feel a sense of compassion towards him. It's somewhat easier to connect with Brendan, because we see snippets of his soft side as a father, like repairing his daughters' toys after work, and letting them paint his face at a birthday party.
It's Nolte, however, who steals the spotlight as a repentant father desperate to reconnect with his sons. Throughout the film, Paddy receives an emotional beating from his sons that rivals the brutal punches his boys receive in the ring. From his worn face to the tears that quietly stream down his face, Nolte tears at our heartstrings with a powerful performance.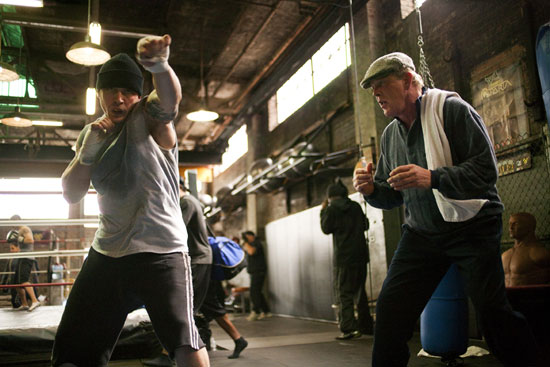 From all the Warrior promotion, it's obvious that the brothers go head to head in the competition, but the route to the ring is still an interesting one. The movie does a great job of presenting what is at stake for each brother, so much so that it's not entirely clear if we should favor one over the other. Sure, we experience the traditional music montage training session, but the complexities of the Conlon brothers' relationship more than makes up for the standard sports movie fare.
Even if you're not a sports fan, you will find yourself excited for the final fight scenes, despite some hard-to-watch body slams. By the end, I found myself riveted to my ringside seat of this film that is just as much a family drama as it is a sports story.
Photo courtesy of Lionsgate