Watch Funny or Die Parody Trailer For Weird: The Al Yankovic Story 2010-03-23 11:15:58
Weird: The Al Yankovic Story Is the Next Great Biopic
I have a major soft spot for Weird Al Yankovic. I follow him on Twitter and remember listening to his albums on tape like it was the greatest music ever. I'm not the only one: Funny or Die has crafted an amazing parody trailer for a biopic about the comedian/musician called Weird: The Al Yankovic Story. In the starring role is Breaking Bad's Aaron Paul, Gary Cole and Mary Steenburgen play his parents, Olivia Wilde gets the role of Madonna — Al's apparent secret love — while comedians like Paul Scheer and Patton Oswalt appear as figures in his life as well (the real Weird Al even makes a cameo).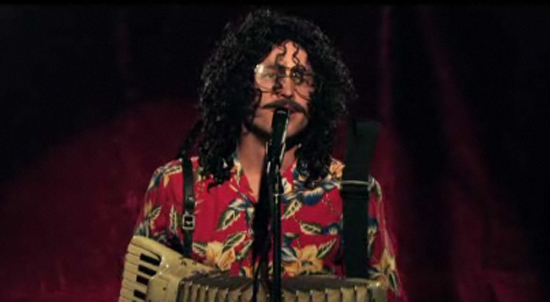 It has all the great trademarks of a rock biopic — the rise to fame, daddy issues, a fame spiral into alcoholism and jail. It's the most hilarious thing I've seen in a while — but I have to ask, is it so wrong that I want it to be a real movie?
To watch the video, just
.