Watch Paper Man Trailer Starring Ryan Reynolds, Jeff Daniels, and Emma Stone
Movie Preview: Ryan Reynolds Dons Tights in Paper Man
Dying for a glimpse of Ryan Reynolds in superhero mode before next year's Green Lantern? I have one . . . sort of. In Paper Man, he plays Captain Excellent, a caped crusader who only lives in the imagination of morose writer Richard, played by Jeff Daniels.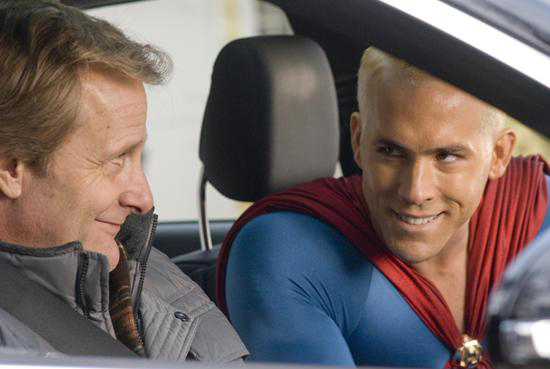 As Excellent, Reynolds is the bleach-blond manifestation of Richard's shortcomings. Frustrated with his presence, Richard hires Abby (Emma Stone) to "babysit" the captain, while Richard attempts to overcome his writer's block and prove to those around him (like his wife, Lisa Kudrow) that he's not a failure. Ultimately, a friendship emerges between the younger Abby and older Richard, in what's become a common cliche for indie dramas. But considering how much I like both Stone and Daniels, I think I'd enjoy watching them bond onscreen. As for Reynolds — frankly, he could chew gum and stare at the camera for 90 minutes and I'd still be enthralled.
To watch the trailer for Paper Man, just
.