Watch, Pass, or Rent: Extraordinary Measures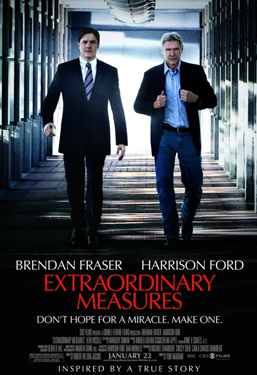 Extraordinary Measures opens today, starring Harrison Ford and Brendan Fraser as a scientist and biotech exec, respectively, who team up to find a cure for Pompe disease, which affects both of Fraser's character's children. The movie is based on the book The Cure by Geeta Anand.
I'm not sure what to expect of the film, but I will say that it knows its audience: the latest promos compare it to The Blind Side, possibly trying to capitalize on that film's success.
I love an inspirational film based on a true story, but I'm wondering if a story of scientific medicinal breakthroughs will be as captivating as other real-life tales. What about you — does the prospect of another wholesome flick in the vein of The Blind Side appeal to you, or are you going to sit this one out?