Watch Saturday Night Live Digital Short "Boombox" Featuring Julian Casablancas
Buzz-Worthy Video: SNL's "Boombox" Digital Short
This weekend's Saturday Night Live boasted the ultra-suave Jude Law, but the funniest skit didn't even feature him. That honor goes to the Digital Short, which featured Andy Samberg — and guest Julian Casablancas! The Strokes frontman rocks out in this video for "Boombox," which is actually on The Lonely Island's album Incredibad.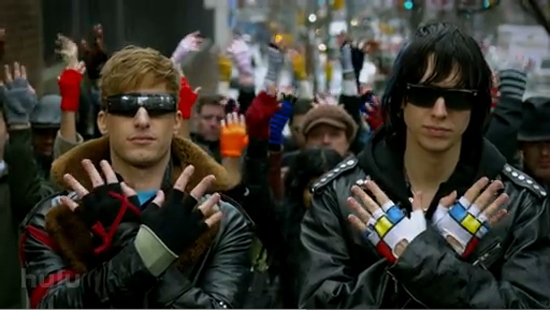 Samberg and Casablancas kill it in this dance-worthy track devoted to the predecessors of the iPod (AKA "ghetto blasters"), complete with misbehaving country club members and nursing home residents. But at the core, it's a cautionary tale: remember, a boombox is not a toy!
To watch the video, just
.