Water For Elephants Review
Water For Elephants: More Than Just Love Under the Big Top
On the surface, Water For Elephants is a film chronicling the love story that unfolds between a veterinarian and a performer while traveling with a circus in the 1930s. But when you dig a bit deeper, you see what's beneath Hollywood's veneer of shiny costumes and stolen kisses: an often harrowing story about the art of illusion and the truths that are revealed when we take a peek behind the proverbial curtain. Thanks to spot-on performances, gorgeous cinematography, and rich storytelling, Water For Elephants is a satisfying and captivating adaptation of Sara Gruen's best-selling novel.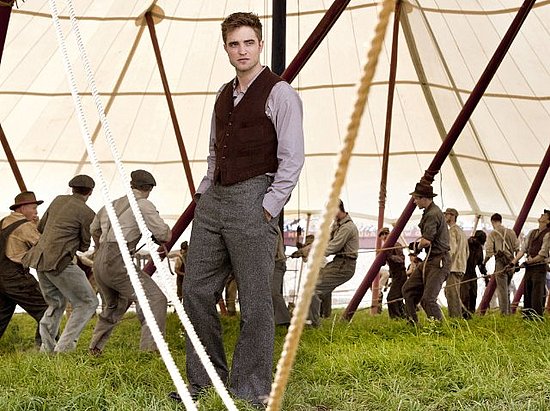 We see the film through the memory of Jacob Jankowski (Hal Holbrook), an elderly man who finds himself at the box office of a circus after hours and begins reflecting on his own time with the now-defunct Benzini Brothers show. Enter Robert Pattinson as Jacob's younger self, a Cornell student on the verge of taking his last final when a shocking tragedy calls him away from his test. Shell-shocked and aimless, Jacob impulsively climbs aboard a moving train and is soon consumed by the clandestine underbelly of a traveling circus.
To see why this film is worth the price of admission, just keep reading.
Jacob isn't exactly welcomed with open arms, but he weasels his way into a day's work that includes hefting manure and seeing the circus for the first time. It's here that he first lays eyes on Marlena (Reese Witherspoon), a gorgeous performer with a strong will who just so happens to be the wife of the circus's bad-tempered ring leader, August (Christoph Waltz). When August agrees to take on Jacob as the circus's veterinarian, Jacob becomes part of the Benzini Brothers family, but he quickly realizes that he may be in over his head.
Pattinson takes on Jacob's naivete with a stiffness that slowly melts away as the story unfolds. He begins as a scared, guarded boy, but each step of his adventure adds a new layer to the character. In turn, Witherspoon tackles Marlena's duplicity between scared young woman and charismatic performer with ease, but really, it's her scenes flipping around on animals under the big top that prove to be the most impressive.
Pattinson and Witherspoon have fine (though not noteworthy) chemistry on the big screen, but it's Waltz's haunting performance that stayed with me after the credits rolled. Throughout the film, August waxes poetical about tricks and illusions, and he's the personification of this theme. He's charismatic on the outside, but there's a great deal of evil lurking behind the smile, a transition that Waltz makes effortlessly in scene after scene. He embodies the danger that Jacob's feelings for Marlena represent, and Waltz's interpretation adds a layer of peril to a film that can be a bit sluggish otherwise.
Though a major element of the novel is missing from the film (we no longer get a taste of older Jacob's life inside the nursing home walls), director Francis Lawrence and screenwriter Richard LaGravenese use the material they're left with to the fullest advantage. The story is well-told, and the scenes are painted with gorgeous colors against a beautiful backdrop. Though Lawrence takes his time unfolding the plot, Water For Elephants is an enriched movie-going experience that taps into romance and fantasy, with an added bonus of that circus magic.
Photos courtesy of 20th Century Fox