We Bought a Zoo Movie Review
We Bought a Zoo: Damon Puts on the Hard Sell
The simple premise of We Bought a Zoo is laid out right there in the title, and with no hint of irony. The "we" is Benjamin Mee (Matt Damon) and his two children, who are looking to make a fresh start when the death of Benjamin's wife still has them reeling six months later. When Benjamin finds his dream home, he accepts the caveat that the house is built on an old zoo territory, and that he must renovate it to save the animals. It's a story that's hard to swallow at first, but the underlying layers and an impressive performance from Damon make it go down easy.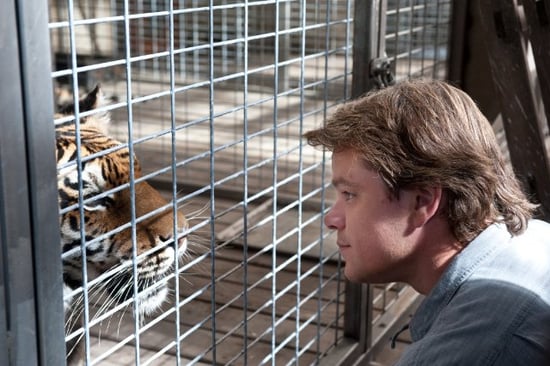 Damon shows his range as an actor yet again, in a role that's a lot more complex than it seems initially. Though Benjamin is renovating a zoo, the story is really about a man struggling to accept his wife's death and his role as a single father. With another actor in the leading role, the film could be relegated to a tale that's both mawkish and emotionally manipulative, but thanks to Damon, you can't help but love and root for Benjamin. Sure, you care a little about the fate of the animals, but more than anything else, you just want this guy to catch a break.
To see what else I liked about We Bought a Zoo, just
.
There's a hint of romance between Benjamin and head zookeeper Kelly (Scarlett Johansson), but Cameron Crowe is wise to focus more closely on Benjamin's relationships with his kids than his employee. In fact, the movie may have benefited if the romantic subplot was left behind altogether. Johansson seems out of place in Kelly's dowdy duds, and as charming as Benjamin is, it seems unlikely that a 28-year-old would want to jump into a relationship with an older man who makes no attempt to hide the fact that he's not over his recently deceased wife.
Child actors are hit or miss in Hollywood, but We Bought a Zoo features an impressive cast of rising stars. I defy you not to fall in love with Maggie Elizabeth Jones as Benjamin's precocious and utterly adorable 7-year-old daughter Rosie, who will make your heart melt as she slaps together PBJ sandwiches and chases the zoo animals. Colin Ford has a heavier burden to carry as Rosie's troubled teenage brother Dylan, who is coping with his mother's death and his fractured relationship toward his father. Though Dylan is obnoxious and frustrating at times, Ford brings a depth to the character that's only annoying in the sense that it's a realistic portrayal of an adolescent.
Thomas Haden Church and Elle Fanning are also assets to the cast, as Benjamin's disapproving older brother and Kelly's spacey cousin, respectively. And, of course, there's the menagerie of animals, who shape the story without stealing the show away from the humans that care for them. It's an important feat, as you never question that the heart of this film is in the personal connections, not in the cute creatures that affect their lives.
We Bought a Zoo perfectly fits the movie mold for holiday time; there's something for kids, something for adults, and a little bit of magic for everyone.
Photo courtesy of 20th Century Fox