We Need to Talk About Kevin DVD Release Date
What to Rent: New DVDs This Week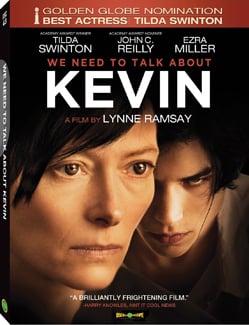 What do you do if the son you raised commits a monstrous crime? Tilda Swinton and John C. Reilly star in this drama as parents to Kevin (Ezra Miller), a quiet but haunted child. As he grows up, his mother notices signs that may point to sociopathic behavior, but his father remains adamant that he's a totally normal, sweet little boy. Of course, everyone notices all is not well when Kevin goes on a shooting spree at his high school. DVD extras include bonus footage, an interview with author Lionel Shriver, and two featurettes.

76%
At first glance, the man on the ledge is a desperate ex-con, seeing no other way out of an extended prison stay than to jump to the street below. But once you look closer, you realize that he's not desperate at all, nor is he looking to escape his life of crime. In fact, he's just looking to create a distraction while his brother scores a bunch of diamonds across the street. Sam Worthington, Elizabeth Banks, and Ed Burns star in this psychological thriller. Extras include a making-of featurette and trailer commentary with Elizabeth Banks.
31%
One more release when you
.
Seann William Scott and Liev Schreiber are Doug and Ross, rivals in their Canadian hockey league, in this comedy. After Doug easily wins an on-ice fight, the former bartender gets the chance to play in the big leagues, in the Halifax Highlanders. Doug doesn't actually know how to play hockey very well, but with the help of his best friend (played by Jay Baruchel, who also wrote the film), he rises to the top of the pack. Behind-the-scenes clips, deleted scenes, and outtakes are included with the DVD.

82%