NBC's new comedy Welcome to The Family is premiering tonight, and it's got a classic sitcom feature — a culture clash — at its heart. Small-screen stars (and memorable TV dads) Mike O'Malley and Ricardo Chavira play two patriarchs who dislike each other quite a bit, but have to forge some kind of relationship when their kids fall in love and get pregnant. I've checked out the pilot of the new series and am letting you know if it's a must add to your DVR.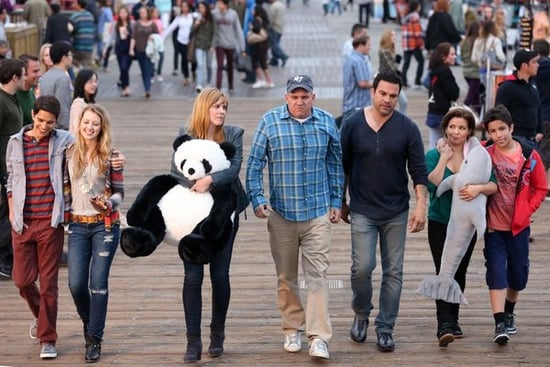 What it's about: Molly (Ella Rae Peck) and Junior (Joseph Haro) are both recent high school graduates and totally in love — and have just found out that she's pregnant. When they decide to make it work, their two sets of parents try to find common ground, even though they have little in common, and her dad Dan (O'Malley) and his dad Chuey (Chavira) hate each other before they even officially meet.
Where it works: O'Malley is hilarious here as Molly's dad and shows the same kind of warmth he's always brought to Glee as Burt Hummel. Molly's dim-bulb character is actually pretty funny, too, as are the reactions of her parents to her actions (like their blissed-out relief that she even graduates).
Where it doesn't: Dan and Chuey's head butting gets old fast and feels like a cheesy sitcom throwback.
You might like this show if: You love Modern Family and Suburgatory.
When it's on: Thursdays at 8:30 p.m. on NBC
Watch a preview for Welcome to the Family after the jump.