What Is The '90s Button
7 Things That Made Us LOL This Week
It's been a good week for royal babies, Bill Clinton, and the '90s! It's been an even better week for fans of those things, since we got hilarious memes, spoofs, and more dedicated to them. Selena Gomez decided she was done with an interview (before it ended), and John Oliver totally served repeat offender Anthony Weiner on The Daily Show. Ready to LOL? Let's begin.
John Oliver Roasts a Weiner


Thank you, John Oliver, for vocalizing everything we couldn't about the newest Anthony Weiner scandal.
The '90s Button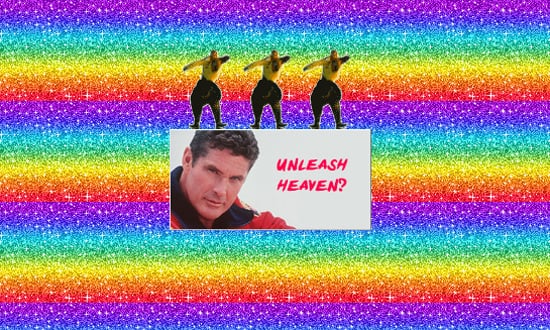 Go to The90sButton.com and click on Hasselhoff's face. You're welcome.
Aubrey Plaza is Daria
Aubrey Plaza is already one of our favorite stars, and when The To Do List actress uses her deadpan style to channel Daria, we're all over it.
More to make you laugh when you read more.
Aaron Paul's Favorite Word
Breaking Bad's Aaron Paul will do anything to make his fans happy, including calling them b*tches. Hey, they asked for it.
Selena Gomez Isn't Feeling It
When a reporter asked her about Justin Bieber, Gomez decided it was her birthday and she could abruptly end that interview if she wanted. And she did.
Royal Baby Memes

The royal baby was born, and though the little prince's life is just beginning, he's already been the subject of so many hilarious memes. The Lion King parallel is only one; check out all the royal baby memes.
Bill Clinton Sings "Blurred Lines"
The outrageous video for "Blurred Lines" has inspired many parodies, but as of late, this is our favorite.