What Childhood Movies Scarred You?
Buzz In: What's the First Movie That Ever Scarred You?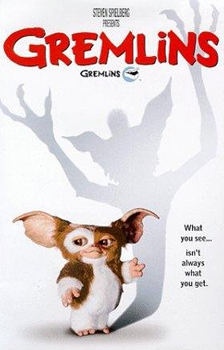 With Halloween plans getting underway at Sugar HQ (stay tuned for our entertainment-inspired costume ideas), we've been discussing the films that spooked us in childhood. Honestly, I have more than I care to admit. Gremlins completely shattered my preconceived notions of cute, furry things, and my mother may have done permanent damage by taking me to Beetlejuice (after which, she taunted me by chanting "Beetlejuice, Beetlejuice, Beetlejuice" on the ride home).
I polled the fellow Buzz editors, and they were quick to dredge up their bad memories. Becky shares my aversion to Tim Burton's early work. She says that Edward Scissorhands freaked out her young self ("He has knives for hands!"), while Shannon claims that she absolutely hated the Stay Puft Man in Ghostbusters. Giant marshmallows can be very menacing.
So tell me what movie kept you up at night as a child, and be honest — you're still a little freaked out by it, aren't you?