What's the Difference Between Elementary and Sherlock?
Elementary: 4 Questions About the New Sherlock Series Answered
Sherlock Holmes has had a pop culture resurgence in recent years, thanks to Robert Downey Jr.'s movie franchise and the BBC series Sherlock. CBS is bringing its own iteration of the iconic detective to the small screen this fall with Elementary, which stars Jonny Lee Miller as Holmes. The twist? This time, Watson's a woman (played by Lucy Liu). Miller and Liu were joined by their producers at the TCA talk about what sets their series apart, and what we can expect from the new drama series.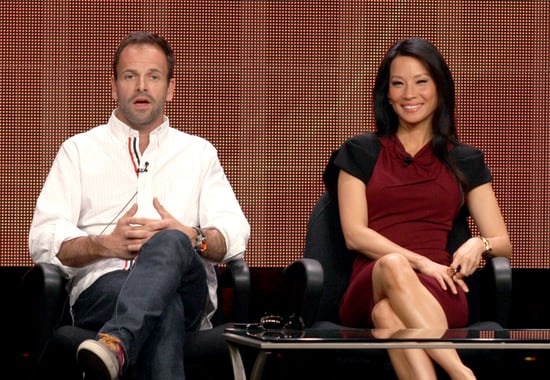 What sets this Sherlock apart from others we've seen before? For starters, Sherlock's drug use isn't sugar-coated in this series, as his addiction is what brings Sherlock and Watson together in the first place: Watson is hired by Sherlock's father to be his sober companion. Executive Producer Robert Doherty added that Sherlock has an addictive personality and that he's addicted to solving puzzles. But it's justice that he's really after: he wants to help people more than he wants to catch criminals.
Has Miller talked to Benedict Cumberbatch about this? Yes. Cumberbatch headlines the wildly popular BBC series Sherlock, and the British actors worked together on National Theater Live: Frankenstein. Miller said, "Before this project came along, I loved the work that Benedict had done with the show, so I would call him up like a groupie after every episode came out and want to talk to him about it. Benedict's been very, very supportive, and I wanted to reassure him about how different this script was. All the other differences will be apparent. It's another country and another vibe."
To see whether or not Moriarty will be involved and how romantic Sherlock and Watson will get, just read more.
Will Moriarty show up soon? Yes. Doherty was careful not to give away too many details, but he did say they have a "plan" for Moriarty and that the villain will be introduced soon. He said they're planning on maintaining Moriarty's spirit from the books, which Doherty described as "shadowy." Incidentally, that's the same word he used to describe Sherlock's mysterious father (who is absent from the pilot, but will also be unmasked in due time). Coincidence?
Are Watson and Sherlock going to get it on? Not right away. Miller stressed that the importance of Sherlock's relationship with Watson in the series, and Liu added that the twist is a constant reminder of how awkward Sherlock is with the opposite sex in general. Miller described the relationship between Sherlock and Watson as that of "colleagues" and "partners" but added, "There is that element [of sexual tension], and people are going to wonder, but wondering and asking questions is something that you want your audience to do."