What to Download: New Music Today
It's a good day for entertainment! Besides the new DVDs today, I've got a few new music releases that should jolt your MP3 player to life.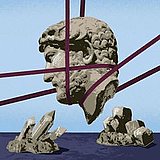 It's electronic: Hot Chip's latest album, One Life Stand, is the fourth from the British electro-pop band, and though it's not quite as effervescent as 2008's Made in the Dark, there are plenty of crowd-pleasers. "Take It In" and title track "One Life Stand," are my favorites in particular, and the ones I'd cue up for a dance party for one. Less upbeat but just as great is the intense "I Feel Better."
Sugary sweet soundtrack: Before the Valentine's Day movie makes its debut in theaters Friday, its soundtrack bows today. By now you may have heard Taylor Swift's contribution, "Today Was a Fairytale" — the song is typically Swift, in that it's pretty schlocky, but it's also infectious and sweet. In the same vein is the Jewel song, "Stay Here Forever," which actually sounds like it could be a vehicle for Ms. Swift. It's not a comeback track for Jewel, sadly, but maybe it'll help her get her foot back in the pop door.
There are a couple more satisfying tracks on the disc, like the indie-fied, twee cover of I'm Into Something Good by The Bird and The Bee. And I tend to love Willie Nelson, so I'm a fan of his Sinatra-esque "On the Street Where You Live."
To see one more new album, just
.
Clap your hands say say yea: Yeasayer has been up-and-coming for the last couple of years, and I think their sophomore effort, Odd Blood, will project them even more into the music consciousness.
Capitalizing on the electro-poppiness that's so hot right now, "Ambling Alp" is a must-download for fans of other bands like Hot Chip and MGMT. Despite those comparisons, the songs are wholly original and captivating, such as "O.N.E.," which manages to be both dance-y and emotionally evocative with lyrics like "hold me like you used to, control me like you used to." Finally, don't miss the fierce and forceful "Madder Red."