What to Expect When You're Expecting Movie Review
What to Expect When You're Expecting: Brings a Surprising Amount of Belly Laughs
Ever since Love Actually captured hearts and audiences with its huge cast and sweet intersecting story lines, there's been an overflow of ensemble comedies, and fatigue has officially set in. There are usually too many characters and subplots, and while What to Expect When You're Expecting does have a star-studded cast and a lot going on, it's funnier and more engrossing than most of the movies in the genre.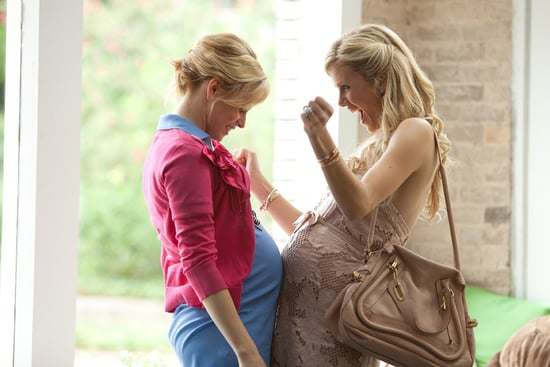 The characters are all dealing with some aspect of parenthood: there's Cameron Diaz as Jules, a trainer on a Biggest Loser-like show who gets pregnant by her dancing partner (Matthew Morrison) from a Dancing With the Stars-like show. There's Holly and Alex (Jennifer Lopez and Rodrigo Santoro), a couple who resorts to adoption, while Rosie and Marco (Anna Kendrick and Chace Crawford) have a fling that leads to her pregnancy. Elizabeth Banks plays Wendy, a woman who's grateful to finally be expecting but is disappointed when she feels more gross than glowy, and in contrast, her younger mother-in-law (Brooklyn Decker) is having the most effortless pregnancy in history. Sure, it's way too perfect that everyone conceives their children around the same time, but the movie is filled with enough humor and warmth to compensate. To find out what else I thought about What to Expect When You're Expecting, just keep reading.
The cast is a talented bunch, from the funny Banks to the earnest Kendrick to the charming Lopez to the straight-up dreamy Crawford. I found myself invested in each character, and the pace at which the movie bounces around the different scenarios keeps it buoyant rather than frenetic. I was rooting for many of the couples to find their bliss — in both baby joy and making their relationships work.
In addition to finding drama in makin' babies, there's also plenty of humor. The biggest laughs come from the supporting characters, like Wendy's husband (Ben Falcone) and her employee Janice (Bridesmaids scene-stealer Rebel Wilson). We also get a male perspective from the "dudes' group" (which includes Chris Rock) that helps Alex prep for fatherhood. The dads list their shortcomings and give advice in what starts to feel like a joke-off among male comedians, and it's a welcome break from the other estrogen-filled scenes.
There's not many surprises at the end of What to Expect When You're Expecting — you're pretty much set up for how things are going to play out nine months later — but that doesn't make it any less heartwarming. Seeing families come together and couples link hands gives you butterflies, which is really the best thing a movie like this can deliver.