What Extras Are on the Hunger Games DVD?
The Hunger Games Is Out on DVD: Here Are the Extras You'll Get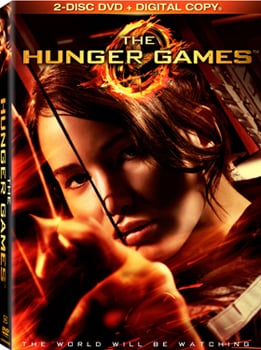 The Hunger Games comes out on DVD at midnight on Friday, and now's your chance to see the film if you missed it in theaters. The flick, an adaptation of Suzanne Collins's novel, is about a televised contest known as the Hunger Games, held by the ruthless government of Panem (aka a futuristic version of North America). It follows a young girl, Katniss Everdeen (Jennifer Lawrence), after she's been chosen to fight in the Games against other teens to the death. The movie is a pretty faithful adaptation that's exciting and well-acted, most notably because of lead actress Lawrence.
Aside from just being able to watch Katniss and Peeta battle for their lives in the comfort of your own home, you'll get a few extras on the disc as well. There is over three hours of bonus content, so read on to get a rundown of what you get when you buy The Hunger Games on DVD after the jump.
A documentary: An eight-part, two-hour documentary titled The World Is Watching: Making of The Hunger Games chronicles the production of the film.
Panem's propaganda film: This is the film that Effie Trinket screens at the reaping just before pulling the names of the tributes.
Director interview: Director Gary Ross sits down for a conversation about the movie.
A featurette on the author: The writer of the trilogy gets her due in the extra "Game Maker: Suzanne Collins and the Hunger Games Phenomenon."
A featurette about the villain, President Snow: In "Letters From the Rose Garden," Donald Sutherland talks about his character President Snow.
A featurette about the control center: "Controlling the Games" gives insight into how the control center for the arena was conceived.