What Have You Read From Oprah's Book Club?
Buzz In: What Oprah Book Club Picks Have You Read?
Have Oprah and Jonathan Franzen decided to forgive and forget? The two butted heads in 2001 when she chose The Corrections for her beloved book club. Franzen made a few biting remarks, calling her selections "schmaltzy," so she didn't invite him on her program (though she still promoted his novel). Now, nine years later, Franzen has another hit with Freedom, and Oprah is jumping on board the bandwagon by picking Freedom as her September read.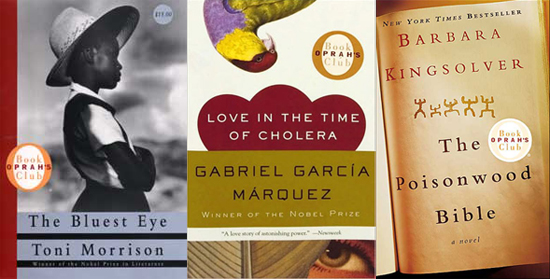 I was already interested in Freedom because of the buzz around it (even though many of you have said that Oprah's approval actually deters you from her books). You have to admit though that she's usually spot-on with her picks; she even had the foresight to call out The Reader back in 1999, long before it was made into an acclaimed film. Out of curiosity, I looked at her full list of book club selections, and I've actually read several. Among my favorites: Toni Morrison's The Bluest Eye, Gabriel García Márquez's Love in the Time of Cholera, and Barbara Kingsolver's The Poisonwood Bible (I still vividly remember its cover, complete with the Oprah emblem). What have you read from Oprah's book club?