Change is in the air, and it's coming to San Francisco. The Real World is switching up its format for the first time in over 20 years. The upcoming season, which takes place in the city by the Bay, will be named The Real World: Ex-Plosion, so named because this time, the roommates' ex-girlfriends and boyfriends are invading the house. According to Entertainment Weekly, "One month into the three-month shoot, [the cast will] go away for a day trip. When they return, they're in for a huge shock: their exes have moved in, too." Whammy!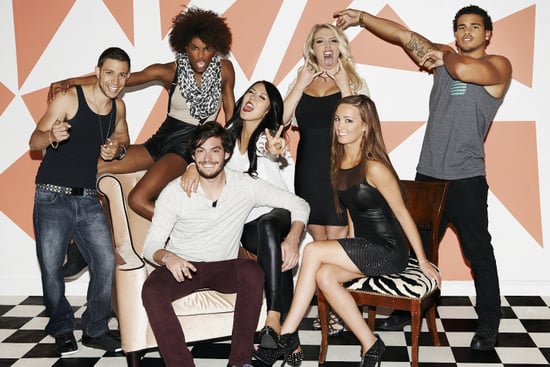 I've been watching The Real World for about a decade now, and I'm really on the fence about this change. Yes, the formula is getting old, but it's still the mother of all reality shows. Plus, how are we supposed to keep track of that many people? EW chatted with the show's cocreator Jonathan Murray, and even though he provided some great insight on the switch, we still have some questions . . .
How many beds will there be?
Most of my questions are about the sleeping arrangements, so I'll get those out of the way first. Are there vacant rooms when the original housemates move in (and isn't that kind of suspicious?), or do the exes have to sleep in the same rooms with their former lovahs? Will there be Paradise Hotel-style choosing ceremonies for whose bed you want to sleep in?
How serious are these exes?
What qualifies an ex? Did these people date for a month or five years? According to EW, "Producers sought singles who had particularly interesting relationships with their exes. After filming began, producers had to scramble to convince the exes to drop everything and join the cast, too — five of the seven agreed." Wait a tick, five of the seven? What about the other two? Are those housemates just let off the hook?
We have more questions when you read more.
How does this smartphone situation work?
The season's second twist is that for the first time ever, the housemates are given smartphones, on which they can take and send pictures and messages to each other. Follow-up question: can you send pics and messages to individuals in the house, or does everyone get them?
What does this mean for the future of The Real World?
Since producers obviously can't do this again and hope for the same surprise, do they have other gimmicks up their sleeves for other seasons? What's next — The Real World: Hunger Games?
Why didn't they just launch a new show and call it Ex-Plosion?
Simply put: The Real World isn't doing well in the ratings, and instead of canceling it, MTV is trying to revive it. "We wanted to give our audience a fresh take on the series," Susanne Daniels, MTV's president of programming, told EW. "We are excited about this season's twists and unexpected turns."
Where do they find these people?
Why would anyone agree to ambush their ex, then volunteer to live with them for two months? Maybe that's a silly question in the world of reality TV, but isn't it hard enough to star in the story of seven strangers who live together?
Will the twist make The Real World more watchable?
Part of the reason creators want to mix up the format is because making roommates out of a diverse group of people just isn't as interesting as it used to be. "Diversity is a fact of life today," said Murray. "A lot of young people date people of different races or have friends who are gay. The world has changed." The producer followed up by noting that this season is "complicated and really interesting." Alright, you've convinced me — I'll give it a shot.
Will there still be a hot tub?
Yes, Murray assured EW: "Of course there's a hot tub."