What Is Sharknado?
Everything You Need to Know About Sharknado
Brace yourself, because the Syfy original movie/pop culture sensation Sharknado, starring Tara Reid and Ian Ziering, is headed to a big screen near you. Regal Cinemas is hosting almost 200 midnight screenings across the country of the made-for-TV movie on Aug. 2. There's even more reason to get to know the phenomena, since Syfy also announced that there will be a Sharknado sequel. But what's a sharknado, you ask? Keep reading to get a primer on the TV movie, see the best GIFs from the ridiculous footage, and read the most hilarious celebrity reactions.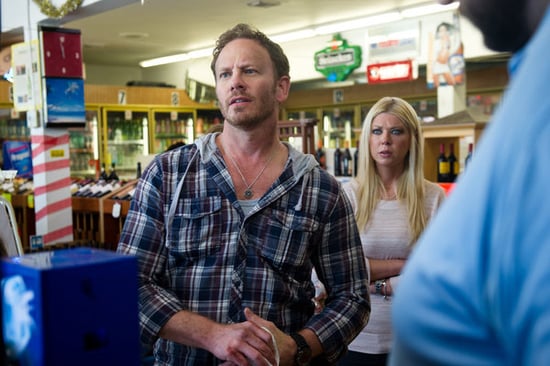 The Premise
Basically, a bunch of giant super tornadoes form in the Pacific Ocean, just outside of LA. These super tornadoes suck up a ton of sharks — because we all know that thousands of sharks hang out by the shore, right? — and carry them to land. The result? Pure and total chaos.
Yes, you read that correctly. Sharks in the sky. Just, you know, hanging out.

See the rest of our favorite GIFs plus celebrity reactions when you read on!
If you think about it, the only thing more terrifying than a shark attack in the ocean is a shark attack on dry land. That doesn't stop this guy from letting loose on a shark with a bar stool.

Also, someone saws a shark in half.

But none of that really compares to diving into a shark and sawing your way out.

So, yes. That's Sharknado in a nutshell.
The Reactions
You'd think that's where the fun ends, but the best part is actually everyone else's response to the film. The film blew up Twitter after its premiere, and we pulled the best tweets from the mix!


B.J. Novak is afraid of being "the boy who cried Sharknado":
I'm afraid that now when we have a real sharknado everyone's going to treat it like a joke

— B.J. Novak (@bjnovak) July 12, 2013


Patton Oswalt reported on President Obama's emergency response to the situation:
Holy shit, guys. Turn on @CNN. Obama, just now: "We must, as a nation, will our organs to shut down. Sharknado!"

— Patton Oswalt (@pattonoswalt) July 12, 2013


Comedian Rob Delaney was pleasantly surprised.
I usually hate Wes Anderson, but Sharknado's actually pretty good.

— rob delaney (@robdelaney) July 12, 2013


Josh Gad believes that Steven Spielberg is a good person.
If Spielberg could go back in time and stop Jaws from happening to prevent 2013's #SharkNado, I believe he would.

— Josh Gad (@joshgad) July 12, 2013


Um, Elizabeth Banks and Olivia Wilde both called dibs on the sequel?!
@ElizabethBanks Banks, this is our chance to play Siamese twins: two heads, one magnificent shark tail. Emmys all around. #SharknadoTwo

— olivia wilde (@oliviawilde) July 12, 2013


Even Mia Farrow got in on the action.
Omg omg OMG #sharknado

— Mia Farrow (@MiaFarrow) July 12, 2013
Who's excited for Sharknado 2?!