What's Your Number Movie Review
What's Your Number?: Just Doesn't Add Up
In the opening scene of What's Your Number, Ally (Anna Faris) slips out of bed to adequately primp for that "Don't I naturally look amazing in the morning?" glow and return before her boyfriend du jour even notices she's gone. If that sounds familiar to you, it's because almost the exact same scene was featured in Bridesmaids. Though we can write that off to unfortunate coincidence, the rest of What's Your Number? continues to borrow so much from other films that the romantic comedy ultimately drowns in overused clichés.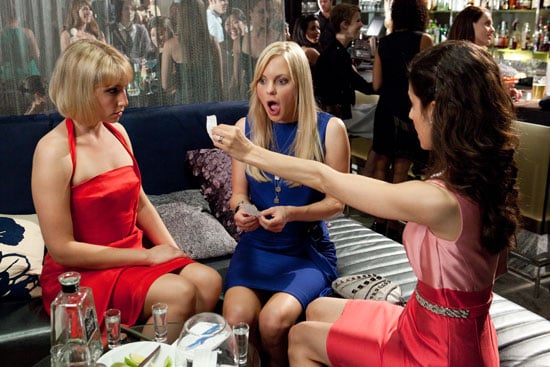 The attractive neighbors-who-will-obviously-fall-in-love here are Ally, an unlucky but optimistic woman who has a dated a string of losers, and Colin, an overgrown frat boy who brings new meaning to the term "love 'em and leave 'em." When the latest issue of Marie Claire informs Ally that her number of lovers is above average and means she's in danger of ever finding "the one," she decides to try again with all of her exes instead of letting her number go higher than 20. After one hilarious, wine-induced failed attempt to track down the guys on the Internet, Colin offers his sleuthing skills in exchange for using Ally's apartment as his personal hideout from his one-night stands. What ensues is a predictable, by-the-book romantic comedy that is barely salvaged by Faris and Evans's chemistry and a long list of inspired supporting players.
To see what else I thought about What's Your Number?, just keep reading.
Ally's parade of (mostly loser) exes is a perfect way to pack in extra comedic support, courtesy of a ton of recognizable faces. Among them are Faris's real-life husband Chris Pratt, Andy Samberg as a braces-clad puppeteer, and Zachary Quinto as a tree-hugging douchebag. All of the flashbacks are entertaining, particularly when they reveal how Ally's former lovers have changed over the years.
Faris pulls out everything in her comedic wheelhouse, and when she delivers, she really shines. But for every hilarious cockney accent, there's an overly ridiculous slapstick moment (like setting her fake hair on fire). In the same vein, Faris spends so much time convincing you that Ally is quirky-charming that we never really understand what makes her tick.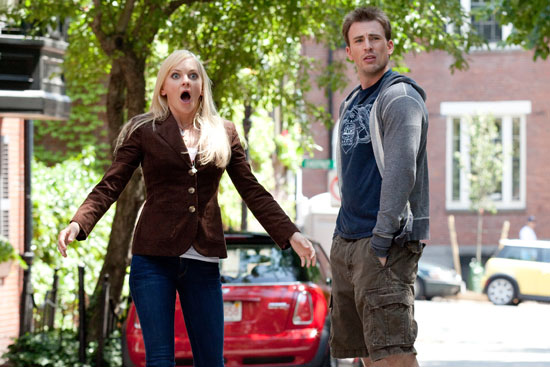 Evans, on the other hand, relies on his looks to carry his character through the movie. He's perfectly fine as the grinning, horny slacker, but you probably won't remember anything about his performance other than the fact that he pretty much never wears clothes. His character spends so much time wearing only underwear (or a newspaper, or a dish towel, as the case may be) that I'm partially convinced that Evans signed a contract agreeing to exploit his Captain America physique for most of the movie. Not that I'm complaining (and neither will you, ladies), but a game of strip basketball in the middle of the film is a bit anticlimactic when you've already seen all the goods.
Faris and Evans are convincing as bickering buddies, but their simmering sexual tension fizzles when the laughable dialogue ruins their more serious scenes together. The second half of the film plays out as if the writers suddenly realized the film needed every nonsensical romantic comedy cliché to get us to the ending everyone saw coming. What's Your Number? is not a terrible romantic comedy, but the lack of imagination prevents it from being anything more than mediocre.