When Is Moriarty Coming on Elementary TV Show
Elementary: 3 Things You Can Look Forward to (and One Thing You Can't)
CBS's Sherlock Holmes drama Elementary has proved to be one of this season's hits, and as if validating that, the series also landed the coveted post-Super Bowl slot this year. The show's executive producer Rob Doherty came to TCA with stars Jonny Lee Miller and Lucy Liu and talked about how excited they were about the opportunity, and more importantly, during their panel, they talked about a few things to look forward to during the rest of this season — along with one thing you probably (disappointingly) won't see.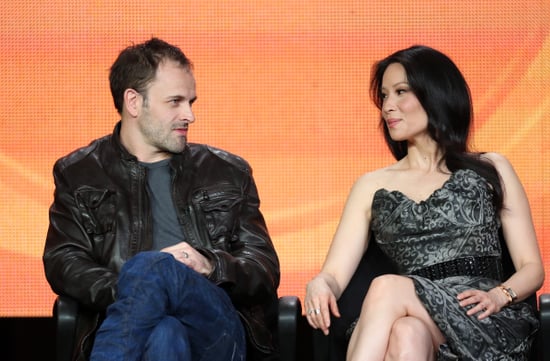 Moriarty is still coming. Holmes's most infamous nemesis will make his debut by the end of this season, though he has not been cast yet. Doherty said he to hoped to keep the casting as secret as possible, saying they were "approaching it very carefully and as quietly as we can . . . It's less fun for me if all of you know who it is, when they'll arrive, and what they'll be doing," he added.
Actor John Hannah won't be playing Moriarty. Doherty announced that British actor Hannah had been cast as someone from Sherlock's past, but the executive producer wouldn't reveal exactly who. He did stress that Hannah wasn't playing Moriarty, however.
Irene is coming, too. Doherty also addressed whether we'd see the character of Irene, another figure from Sherlock Holmes mythology. Doherty admitted to struggling with exactly how she'd be introduced, and said the writers had talked about possibly doing a flashback episode to introduce her. It didn't sound like there was a plan, but Doherty made it sound like it's on the horizon: "We definitely want to meet her. You will see a living, breathing actress reading lines and portraying Irene."
But you won't be seeing Holmes and Watson hook up anytime soon. Miller and Liu were asked to address rumors that they'd been told they had too much romantic chemistry, and they both denied that, but Liu did say they were given notes that Holmes and Watson seemed too familiar, "like they've known each other for a while." While Miller and Liu talked about how much they get along — about Liu, Miller said, "It's a real blessing to form a working relationship and a bond with someone you love and respect so much" — don't expect their onscreen relationship to get romantic anytime soon, or ever. Doherty acknowledged that though people might expect them to hook up, "we love to defy expectations on this show," and quite concretely, he said, "For as long as I am a part of this show, it's not something I want to see." Why not? "I don't think we need it," he admitted.