We're still a couple of months away from getting new Fall TV, but you don't have to wait that long to watch a fresh new TV series. Starz is introducing royal drama The White Queen, based on author Philippa Gregory's book series about the main players in the War of the Roses and the fight for England's throne. I've checked out the first episode of the cable show and am letting you know whether you should add it to your summertime viewing.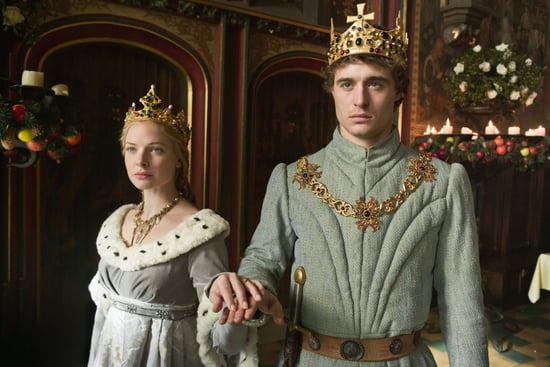 What it's about: In the late 1400s, England's conflict is between the Lancasters and the Yorks, and Edward IV (Max Irons), a York, has just taken the throne by force. Things get more complicated when he falls for and marries the beautiful widow Elizabeth Woodville (Rebecca Ferguson), a commoner. The love story isn't the only source of intrigue; Elizabeth and her mother (Janet McTeer) are also dabbling in witchcraft, and the two women struggle to ascertain Elizabeth's power in court.
Where it works: Irons is as dreamy as any onscreen Prince Charming, and the historical true story is fascinating. It's also a steamy guilty pleasure, since Elizabeth and Edward's romance is at the center, but . . .
Where it doesn't: The courtship of Edward and Elizabeth is a little icky — he's initially a bit forceful when he tries to get her to "lie" with him, so it's hard to feel invested or excited about their love story later on. Plus, the show is just a tad melodramatic.
You might like this show if: You love shows like The Tudors and Game of Thrones but wish they had more romance.
When it's on: Saturdays at 8 p.m. starting Aug. 10 on Starz
Watch a trailer for The White Queen after the jump.