Why Did Charlie Hunnam Leave Fifty Shades of Grey?
More Details on Charlie Hunnam's Fifty Shades Exit
Charlie Hunnam has broken his silence about his departure from the Fifty Shades of Grey film. At a charity event in Burbank, CA, this week, Hunnam spoke to E! News about his decision to leave the role of Christian Grey behind: "I have had some family stuff going on so just trying to stay focused and stay positive and keep trying to do a good job at work and be with my family and stay positive . . . I am doing good. I am just really concentrating on work. It's been a really busy time." Understandable, since the actor's father passed away in May.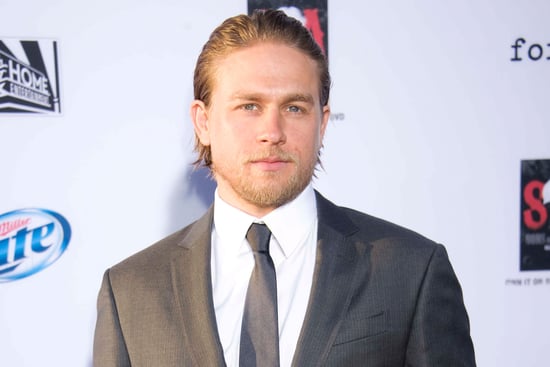 Officially, Hunnam exited the role because his busy Sons of Anarchy schedule wouldn't allow the time to prepare for the movie, which was supposed to start shooting on Nov. 1. More details and theories have emerged since the news hit on Oct. 12, and The Hollywood Reporter also provided some enlightening answers.
He was uncomfortable with the attention. The adaptation is a hugely high-profile project, especially because of Fifty Shades of Grey's fervent and opinionated fan base. The announcement of his casting happened to coincide with Sons of Anarchy's season premiere, and not only was Universal (the film's studio) forced to hire bodyguards for Hunnam, but also, FX had to cancel two events scheduled to promote the show. THR claims that Hunnam's discomfort "had been mounting for at least four weeks" before he dropped out of the movie.
He wanted his say in the script. Hunnam is also a writer in addition to being an actor, and upon reading the script, sources say he made his own notes to the script and gave them to the writers. Though he was met with good reception, "that only led to Hunnam seeking further script approval, which was denied."
He didn't get along with the creative team. Hunnam was reportedly having issues with director Sam Taylor-Johnson and the rest of the creative team. The conflict "reached a fever pitch in early October," and once the studio hired writer Patrick Marber to enhance the characters in the script, Hunnam decided to depart.
We're bummed that Charlie is out, but now we're thinking about which actor will fill Christian Grey's shoes!